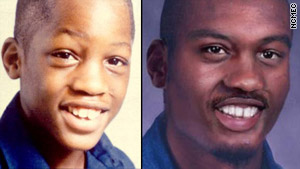 Allen Briscoe disappeared on December 13, 1985. The photo on the right shows what he might look like today.
STORY HIGHLIGHTS
Allen Briscoe may have skipped school on the day he vanished, December 13, 1985
He was last seen getting off a city bus in a Philadelphia neighborhood
His mother, Joanne Briscoe, thinks he may still be alive but doubts he ran away
Know something? Call Philadelphia police, 215-685-3251 or 1-800-THE LOST
New York (CNN) -- It was Friday the 13th and Joanne Briscoe, who is not by nature a superstitious woman, felt a sense of foreboding as she left for work.
Every weekday, Briscoe would call home at 7:30 a.m. from her clerk's job at a Philadelphia, Pennsylvania, insurance company to make sure her 16-year-old son, Allen, and his 17-year-old sister, Latanya, were awake and getting ready to go to school.
But on December 13, 1985, the teens didn't answer when their mother called. She called again at 3:30 p.m., about an hour after school let out. Still there was no answer.
Briscoe was working nights to make extra money for the holidays. She went to that job still worried about what her kids might be up to.
Her son had celebrated his birthday just eight days earlier. "I was wondering if he was trying to take this '16' to another level,'' she said. ''I'm not one to go howling and screaming. I'm like, 'OK, we'll see what happens when I get home.' ''
Briscoe arrived home about 11 p.m. Locked out because Allen had her keys that day, Latanya had gone to her grandmother's place for a while. But no one had seen Allen.
Friends, family and many of the neighbors began searching the streets for him.
Police were called the next day and began to investigate.
"We were all over this city with fliers,'' said Briscoe. She fondly remembers a co-worker who helped her search for Allen during their lunch breaks.
To this day, details on what Allen might have done that day remain somewhat murky. While his missing persons poster says school was dismissed early, Briscoe believes her son did not go to school that day.
But Philadelphia police records indicate Allen and a friend were at school at some point. The friend had ''some business to take care of'' there, according to Robert Rajchel, an officer with the special victims unit's long-term missing persons section.
''They were riding the Philadelphia subway system all day,'' said Rajchel, the lead investigator on the case. "At the end of the day they came back to their own neighborhood and they were on a bus, and Allen split from his friend.''
They were riding the Philadelphia subway system all day.
--Officer Robert Rajchel
Allen told his friend he was going to see a female friend. That was the last time he was seen, police say.
To this day, Briscoe said she suspects that another boy who lived in the area where Allen got off the bus may know something about her son's disappearance. That boy once came to her home to see Allen, and she remembers warning Allen to keep his distance.
Police interviews with that person and Allen's many friends, as well as acquaintances and strangers, have led nowhere in the search for suspects in the 24-year-old mystery.
Police would like to re-interview people Allen may have associated with but they are hard to find so many years later, Rajchel said.
These days, Latanya Briscoe refuses to talk about her brother's disappearance, her mother says.
"She holds it in. She really does."
Briscoe said she believes that if she tells people how she handles her own personal tragedy she might help others cope with their own.
"It's good to talk about it. You don't know what somebody else is going through," she said.
Allen loved to play basketball and was passionate about rap music, according to his mother. "We would wrestle together. All that kind of crazy stuff. He'd have me in a headlock,'' she recalled with a laugh.
Briscoe still holds hope that her son is alive, but said she doubts that he ran away. He had never threatened to leave home. He also didn't take anything significant with him, including $50 he received for his birthday.
Briscoe said Allen would never pass up her home cooking, which catered to his preferences.
"He was so picky about the food he ate, 'Make my hamburgers but don't put any onions or peppers in it. When you fry my eggs, make sure they're soft,' '' Briscoe said, quoting her son's requests.
The case is active and will remain open and continue to be investigated until Allen is ''found one way or the other,'' Rajchel said.
There was one tip Rajchel would like to pursue further. A southwest Philadelphia woman who saw a magazine ad about Allen's disappearance called to say the age-progressed photo closely resembled her boyfriend.
Rajchel contacted the man, who said he was not Allen Briscoe. The man has not been cooperative.
"I want to rule him out and I'd like to see him and talk to him, but he's avoiding us because he has a criminal history,'' he said.
The missing persons poster for Allen Briscoe describes him as bowlegged, with a right shoulder that droops when he walks. He had a cracked front tooth when he disappeared.
His nicknames were Squeak and Squeaky. He would now be 40.
If you have information, please call the Philadelphia Police Department at 215-685-3251 or the National Center for Missing & Exploited Children at 1-800-THE LOST.