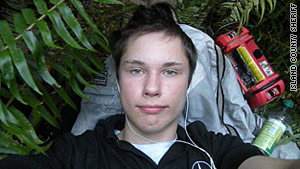 Police say they found this self-portrait of Colton Harris-Moore in a camera left in a stolen car.
STORY HIGHLIGHTS
Colton Harris-Moore, 18, is known in Washington state as "Barefoot Burglar"
He is suspected of stealing plane that approached no-fly zone at Winter Olympics
Harris is supected of but not charged with stealing other planes
Time magazine called him "America's Most Wanted Teenage Bandit"
Seattle, Washington (CNN) -- Authorities have a familiar suspect in the theft of a plane that alarmed air traffic controllers when it flew near airspace restricted for the 2010 Vancouver Olympics: They're looking for "the Barefoot Burglar."
Investigators say it's the fourth plane they believe Colton Harris-Moore has stolen and flown away, despite the fact that he is only 18 and does not possess a pilot's license.
"We think it fits his pattern," San Juan County Sheriff Bill Cumming said. "We are looking for him."
The plane, a Cirrus SR22 worth about $650,000, was undamaged even though it came to rest in mud near a landing strip on Orcas Island, off the Washington coast, said Allen Kenitzer, a Federal Aviation Administration spokesman.
Previous plane thefts of which authorities accuse Harris-Moore resulted in thousands of dollars in damage to the aircraft.
The sheriff said the four planes all appear to have been flown by an untrained pilot and were stolen from or crashed near an area near where Harris-Moore is known to have lived. Cumming said that authorities suspect Harris-Moore in the four thefts and that investigators are gathering and processing forensic evidence from the stolen planes.
Harris-Moore has not been charged in the plane thefts, but he faces at least 11 charges for driving a stolen car, Internet identity thefts and burglaries.
He is alleged to have committed some of the crimes barefoot. That earned him the nickname that has become part of the lore surrounding the young fugitive in the small Camano Island community where he grew up.
Investigators have received reports that Harris-Moore has lived in the woods and in other people's homes. They do not know where he is, but they're looking for him -- and trying to determine whether someone is helping him.
'Barefoot burglar' takes to the skies
"He will typically break into a home or vehicle and copy down the credit card numbers," Island County Sheriffs Department spokesman Ed Wallace has said. "He then leaves the credit cards behind so people don't realize they have been stolen."
Wallace has said that Harris-Moore has charged thousands of dollars worth of video games, GPS devices and police scanners online, using stolen credit cards.
When Harris-Moore wasn't squatting in homes, he took to the woods with survival gear to elude police, they said. He's been known to hide in the trees.
"He's almost like a feral child," Wallace said.
In the latest stolen-plane case, police say the pilot of a small plane approached the no-fly zone Wednesday before bringing the aircraft in for a hard landing on Orcas Island, off the coast of Washington state. Cumming said police also suspect that the pilot broke into a nearby grocery store and stole $1,200.
The thief left a calling card too, Cumming said. On the floor was written "C-Ya" and the outlines of two feet drawn in chalk.
In 2008, Harris-Moore went from being a convicted serial burglar considered to be a nuisance by residents and police to an outlaw making international headlines after he broke out of a juvenile halfway house shortly before someone started stealing and crashing planes.
Time magazine, in a December dispatch, dubbed him "America's Most Wanted Teenage Bandit."
Facebook fan sites show nearly 30,000 "friends" for him.
Island County Sheriff Mark Brown, whose department oversees Camano Island, said he is sick of Harris-Moore's growing fame.
"It should be more about the apprehension of an adult felon criminal and not so much about everything else making this person into a Robin Hood or cult hero," Brown said.
Harris-Moore's mother, Pamela Kohler, has not responded to questions about the latest incident. Earlier, she told CNN affiliate KIRO that she wanted her son to turn himself in. She said she was "proud" if her son had actually taught himself to fly.
In October, police called Harris-Moore a suspect in the theft of a plane from Idaho that crash-landed in a clearing northeast of Seattle. Since then, there have been no solid leads on Harris-Moore's whereabouts.
But on Wednesday, a Cirrus SR22 plane was stolen from a small airport in Port Angeles, Washington, Cumming said. The plane was "flying erratically" before making a hard landing about 40 miles to the north on Orcas Island.
Cumming said the plane was damaged on landing.
Orcas Island, a 57-square-mile island with a population of about 4,500, is mainly known as a hub for whale-watching tourists.