March hearing set in Fort Hood massacre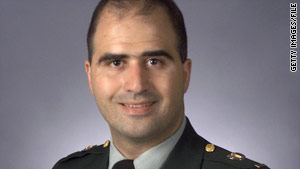 Maj. Nidal Malik Hasan, in an undated photo, is charged with 13 counts of premeditated murder in the Fort Hood shootings.
STORY HIGHLIGHTS
Article 32 hearing set next month in 13 shooting deaths at Fort Hood, Texas, base

Hearing is the military equivalent of a grand jury

Suspect Maj. Nidal Malik Hasan eligible for death penalty

Hasan remains hospitalized, needs physical therapy, attorney says

(CNN) -- A hearing in November's 13 deaths at the Fort Hood, Texas, military base is tentatively scheduled to begin March 1, the Army said Monday.
The Article 32 hearing is the military equivalent of a grand jury.
A document appointing a military judge, Col. James Pohl, as investigating officer was relayed to Pohl and defense attorneys for suspect Maj. Nidal Malik Hasan on Monday, the military said in a statement.
While the document allows for "reasonable delays," a preliminary date of March 1 was set.
Hasan, an Army psychiatrist and a U.S.-born citizen of Palestinian descent, is charged with 13 counts of premeditated murder in the November 5 shooting rampage and 32 counts of attempted premeditated murder. Hasan is eligible for the death penalty.
His civilian attorney, retired Army Col. John Galligan, said in December his client was considering pleading not guilty by reason of insanity.
Authorities have said they believe Hasan walked into a processing center at Fort Hood and began firing two handguns. He was shot numerous times by base security officers and is paralyzed.
Galligan said Monday he was not surprised by the announcement regarding the Article 32 hearing but said he believes it will be delayed.
Hasan remains hospitalized at Brooke Army Medical Center, he said. Doctors have said he could be discharged by the end of February. If that happens, Hasan would go to another medical facility, to Fort Hood for confinement or -- less likely -- on house arrest.
Last week, Galligan said Hasan was recovering and was incapable of assisting attorneys in preparing his defense, and that he will need physical therapy to become capable of doing so. The lawyer said he would like Hasan moved to a hospital closer to Fort Hood, which would allow him more access to his client.
After reviewing a Pentagon report examining the shootings, Defense Secretary Robert Gates said last month the U.S. military has inadequate and outdated defenses against internal threats.
Gates also said there was a lack of supervision over Hasan, who according to officials, was promoted to major despite supervisors' concerns about his extremist views on Islam and odd behavior.