'Millennium bomber' sentence overturned; feds seek longer one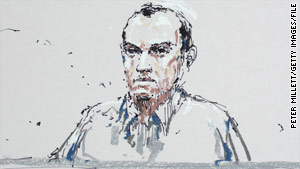 Ahmed Ressam should have received a longer prison sentence, federal prosecutors say.
STORY HIGHLIGHTS
Court: 22-year sentence didn't follow guidelines, which called for at least 65 years
Decision sends Ahmed Ressam's case to different judge for resentencing
Ressam was convicted in failed 1999 plot to Los Angeles International Airport
U.S. attorney hails decision, says Ressam "remains a threat to the public"
(CNN) -- An appeals court Tuesday overturned the 22-year sentence of a man convicted for a failed plot to bomb Los Angeles International Airport in 1999 -- a win for federal prosecutors who are seeking a longer prison term.
A divided three-judge panel of the 9th U.S. Circuit Court of Appeals noted that a lower court did not use federal sentencing guidelines when it sent "millennium bomber" Ahmed Ressam to prison for 22 years, according to a release from the U.S. attorney's office in the Western District of Washington.
The federal guidelines indicate that Ressam, 41, should have received 65 years to life in prison, the U.S. attorney's office said.
The appeals court ordered the case be sent to a different judge for sentencing, according to the U.S. attorney's office.
Circuit Judge Ferdinand F. Fernandez dissented with the majority opinion, according to the office.
The court of appeals also said the lower court erred in its sentencing because it adopted the defense's views of Ressam's life history and valued his cooperation with law enforcement although he had recanted it, the statement said. The lower court did not address prosecutors' arguments that a longer sentence is needed to protect the public from Ressam, who would be only 53 at the end of the 22 years, the statement said.
"We are gratified that the Court of Appeals recognized the importance of public safety at sentencing and that Mr. Ressam remains a threat to the public," U.S. Attorney Jenny A. Durkan said in a written statement.
"We have the greatest respect for Judge John Coughenour and his hard work on a difficult case," she said, referring to the judge who handed down the 22-year sentence. "However, we maintain that to protect the public, and deter others, a longer prison sentence is necessary."
Ressam was arrested December 14, 1999, after he took a ferry from Canada to Port Angeles, Washington, with powerful explosives in the trunk of his rental car.
After an 18-day trial, Ressam was convicted of nine counts as the jury concluded he intended to bomb the California airport.
Prosecutors sought life imprisonment for Ressam after he told the court that information he gave to the government to shorten his sentence was the product of an unstable mind, the U.S. attorney's office said.
A new judge will be assigned to the case for sentencing when official paperwork arrives from the 9th Circuit, possibly in three weeks, the office said.