Resident charged with setting fire that killed 5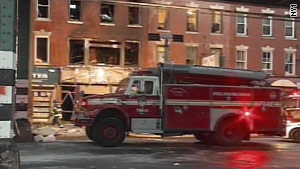 A three-story structure was burned early Saturday in the Bensonhurst neighborhood of Brooklyn, New York.
STORY HIGHLIGHTS
NEW: Daniel Ignacio, 27, charged with five counts of murder
Ignacio also charged with arson, authorities say
Fire victims are Guatemalan immigrants, friends say
Roof of three-story building partially collapsed
New York (CNN) -- A resident of a Brooklyn building where five Guatemalan immigrants were killed in a fire has been arrested, the New York Police Department said Tuesday.
Daniel Ignacio, 27, has been charged with five counts of murder and one count of arson, according to authorities.
The blaze broke out around 2:31 a.m. ET Saturday in the three-story building, affecting a restaurant on the first floor as well as apartments on the second and third floors, fire department spokesman Frank Dwyer said Saturday.
The fire originated behind a door in one of the units, Dwyer said.
"If somebody starts a fire there intentionally, that would certainly be looking to kill somebody, because there's no way for them to get out," Fire Commissioner Salvatore Cassano told reporters.
A 2-month-old baby was in critical condition, fire officials said, and three others sustained injuries ranging from serious to minor. Thirteen firefighters sustained minor injuries.
The roof partially collapsed, which delayed a full search of the building at the time, authorities said.
Luisa Chan, a mother of two, died in the blaze, said Mario Alvarado, a member of Jovenes Cristianos -- Christian Youth, a church with about 200 members, most of them Guatemalan immigrants, on 17th Avenue in Brooklyn.
Chan usually attended services on Tuesday, Wednesday, Saturday and Sunday, Alvarado said. The congregation mourned her on Sunday.
Investigators have not publicly identified the victims, but the Guatemalan consul said they were all from the western part of the country. Two were from the state of Totonicapan and three were from Quetzaltenango.
After the fire broke out, Chan managed to get her 2-year-old son to safety, apparently by handing him to someone on the floor below, and threw her 2-month-old daughter toward a passerby, said Alvarado, who said he received that account from someone close to the family.
CNN's Miguel Susana contributed to this report.