Terror suspect's father indicted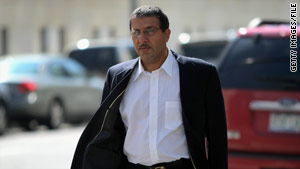 Mohammed Wali Zazi, the father of terror suspect Najibullah Zazi, arrives at federal court in Denver, Colorado, in October.
STORY HIGHLIGHTS
Father accused of destroying chemicals, other material to obstruct probe into son

Mohammed Wali Zazi charged with conspiracy to obstruct justice

Son Najibullah Zazi charged with conspiring to use weapons of mass destruction in U.S.

Younger Zazi has pleaded not guilty after arrest in September

Washington (CNN) -- The father of a man charged in an alleged terrorist bomb plot has been indicted in Brooklyn, New York, the U.S. Justice Department said Monday.
Mohammed Wali Zazi, the father of Najibullah Zazi, is accused of destroying liquid chemicals and other material to obstruct the investigation into his son.
The indictment, returned by a federal grand jury, charges the elder Zazi with conspiracy to obstruct justice in New York, Colorado and elsewhere, the Justice Department said.
"Defendant Mohammed Wali Zazi, together with others, did knowingly and intentionally conspire to corruptly alter, destroy, mutilate and conceal objects ... with the intent to impair the objects' integrity and availability for use ... in a grand jury investigation into federal crimes of terrorism," the indictment said, identifying those objects as glasses, masks, liquid chemicals and containers.
Zazi appeared before a federal judge in Denver, Colorado, on Monday with his court-appointed attorney. He waived his right to an extradition hearing, which basically allows the court to order Zazi removed from Colorado to New York by U.S. marshals, prosecutors said.
Since he now faces charges in New York, federal prosecutors requested that a previous federal charge brought in Colorado be dropped.
Zazi and his son, Afghan natives, were arrested in Colorado in September. Wali Zazi was charged with lying to federal agents. His son has pleaded not guilty to a charge of conspiring to use weapons of mass destruction in the United States.
Authorities said Najibullah Zazi planned to be in New York with the intent of using an explosive device on September 11, 2009. The alleged plot, which came to light after raids in New York in mid-September, may have been targeting a major transportation center, sources said.