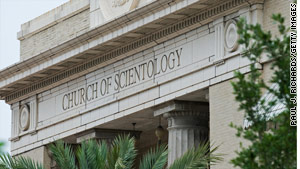 A Nebraska man has admitted his involvement in cyber attacks against the Church of Scientology.
STORY HIGHLIGHTS
Nebraska man admits role in attacks on Scientology Web sites
He downloaded and used software to launch "denial of service" attacks
He is expected to get a yearlong prison sentence
Los Angeles, California (CNN) -- A Nebraska man is expected to plead guilty next week to launching a cyber attack that shut down the Church of Scientology's Web sites, federal prosecutors said Monday.
Brian Thomas Mettenbrink, 20, of Grand Island, Nebraska, was accused of participating in an attack orchestrated by a group that called itself "Anonymous."
The group led protests against the church in various parts of the country before announcing in January 2008 that it would launch a cyber offensive, said Thom Mrozek of the U.S. Attorney's Office in Los Angeles.
Mettenbrink admitted in court that he downloaded software from an "Anonymous" message board and used it to launch "denial of service" attacks on Scientology Web sites.
In such attacks, hackers flood a target site with so much traffic that it is unable to handle the volume and slows to a crawl or crashes altogether. As a result, the site is then unavailable to legitimate users.
The group targeted the church after it forced Web sites to yank a leaked video of actor and church member Tom Cruise fervently making the case for Scientology.
The video was intended for attendees at a church award ceremony in 2004 where Cruise was being honored.
"We are the authorities on getting people off drugs, we are the authorities on the mind, we are the authorities on improving conditions ... we can rehabilitate criminals," Cruise says in the video.
In 2008, the video was leaked online and widely ridiculed.
The church responded by threatening to sue Web sites unless they removed the clip. "Anonymous" then launched its attack.
As part of its offensive, the group asked Internet users to not only download the "denial of service" software from its message board, but also to place prank phone calls, post proprietary church documents online, and send black pages to church fax machines to waste ink.
The group posted a YouTube video that said it aimed to "expel Scientology from the Internet."
"Expect us," the video ended. The attacks targeted local and global sites of the church.
Mettenbrink is expected to plead guilty in federal court next week to a misdemeanor charge of accessing a protected computer with authorization. He agreed to serve a year in prison, Mrozek said.
Mettenbrink's is the second successful prosecution connected to the "Anonymous" attacks. Last year, Dmitriy Guzner of Verona, New Jersey, was sentenced to a year and a day in federal prison for attacks on Scientology sites.
The Church of Scientology, founded by the late science fiction author L. Ron Hubbard, is well known for its high-profile, celebrity members.
In October, film director Paul Haggis left the church for its alleged public support of Proposition 8, which eliminated the right of same-sex couples to marry in California.
Also in October, a French court convicted the church and six of its leaders of organized fraud. The court imposed fines totaling more than $1 million on the church and the convicted staff.
The plaintiffs focused their complaints on the use of a device that Scientologists say measures spiritual well-being. Members used the electropsychometer, or E-Meter, to "locate areas of spiritual duress or travail so they can be addressed and handled," according to Scientology's Web site.
The plaintiffs said that, after using the device, they were encouraged to pay for vitamins and books. They said that amounted to fraud.
The church has called the decision a "modern Inquisition" and said it would appeal the verdict.