Suspect in Yale killing pleads not guilty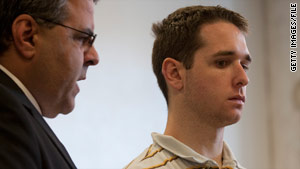 Raymond Clark III, right, appears at his arraignment in Connecticut in September.
STORY HIGHLIGHTS
Raymond Clark II pleaded not guilty during court appearance in New Haen
He is charged with the murder of graduate student Annie Le
Le's body was found inside a wall of a Yale lab building
Clark worked as a lab technician; motive for killing unclear
(CNN) -- A lab technician charged with killing a Yale graduate student pleaded not guilty Tuesday during a court hearing in New Haven, Connecticut, his attorney said.
Raymond Clark III is charged with murder in the death of Annie Le. Her body was found inside a wall of a Yale lab building on September 12 -- the day she was to be married. She had been strangled, the Connecticut medical examiner's office determined.
Clark also waived his right to a probable cause hearing, said his lawyer, Joe Lopez. The next pretrial hearing was set for March 3.
Clark is being held in lieu of $3 million bail.
Clark is not a Yale student, but has worked as a lab technician at the university since 2004. He lived with his girlfriend, who also is a Yale lab technician, according to New Haven police.
A Yale faculty member described Clark's job as maintaining colonies for animals used in research. The lab is in the basement of the building where Le's body was found.
A motive in Le's killing was unclear, but police said they were treating the case as workplace violence.
Le, who was 24, was buried in California on September 26.