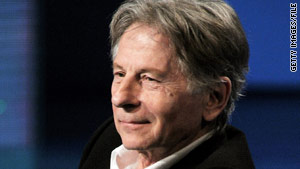 Director Roman Polanski is under house arrest in Switzerland pending extradition to the United States.
STORY HIGHLIGHTS
Director Roman Polanski's lawyers want his sentencing to go on without him
Prosecutors oppose the idea, call Polanski a 'child rapist' in court papers
Polanski pleaded guilty to sex charge, but left U.S. before 1978 sentencing
Hearing set for Friday in Los Angeles Superior Court
(CNN) -- Attorneys for director Roman Polanski fired back against Los Angeles prosecutors, saying the law clearly allows for Polanski to be sentenced in absentia while under house arrest in Switzerland.
The court papers, filed Monday, came in response to arguments by Los Angeles prosecutors that it would be improper to sentence Polanski in absentia after the director made "a mockery of our criminal justice system" for more than three decades.
The famed director of "Rosemary's Baby" and "The Pianist" pleaded guilty to having unlawful sex with a 13-year-old girl in 1977 but was never sentenced. He has been the subject of an international extradition battle since he was arrested in September on a U.S. fugitive warrant.
Polanski's attorney, Chad Hummel, has been pushing for Polanski to be sentenced without having to return to Los Angeles. Prosecutors have vigorously opposed sentencing him in absentia. In court papers filed last Friday, Deputy District Attorney David Walgren stated the reasons in no uncertain terms.
"The defendant is a fugitive," Walgren wrote. "A fugitive child rapist, who for 32 years has made a mockery of our criminal justice system, should not be given the power or authority to request anything of this court until he, the criminal, acknowledges this court's lawful authority by surrendering on his outstanding warrant."
In court papers filed Monday, Polanski's legal team accused prosecutors of stalling the case by requiring Polanksi to appear in California.
"Stripped of its inflammatory and, frankly, press-conscious statements about this case, the District Attorney's opposition seeks to thwart any further proceeding in the case until Mr. Polanski is physically present in California," lawyers Hummel and Bart Dalton wrote.
"That approach would wrongly elevate a purely technical and nakedly police remedy for 'fugitive' status in this notorious case above the interest of the criminal justice system," they added.
Deputy District Attorney David Walgren has asserted that the only just solution would be for Polanski to waive extradition. "The operation of a fair and equitable judicial system mandates that criminals, even those with celebrity status and wealthy means, abide by lawful court orders," he wrote in his own legal motions, filed last Friday.
Compelling Polanski to obey the court's order "is the only way the integrity of our system can possibly be maintained," he concluded.
For years, Polanski, 76, and various lawyers have made quiet overtures to resolve the case, but negotiations have always bogged down over prosecutors' insistence that he return to the United States and appear in a Los Angeles courtroom.
Superior Court Judge Peter Espinoza has scheduled a hearing Friday on whether to sentence Polanski in absentia. A California appeals court raised the possibility last year, when it rejected Polanski's bid to have the case dismissed.
The long-running legal dispute began when Polanski pleaded guilty in 1977 to having unlawful sex with a 13-year-old girl. He was 43 at the time. Prosecutors dropped rape and other charges in exchange for the guilty plea.
But Polanski fled the country before he was sentenced after learning that the judge might not go along with the short jail term Polanski expected to get in exchange for his plea. He has been a fugitive since 1978 and lived in France before his arrest.
Swiss authorities released the director from jail on $4.5 million bail in early December "pending extradition" to the United States.
In the past, Espinoza acknowledged problems with the way Polanski's case was handled years ago, mentioning a documentary film that portrays backroom deals between prosecutors and a media-obsessed judge who was worried his public image would suffer if he didn't send Polanski to prison.
"It's hard to contest some of the behavior in the documentary was misconduct," Espinoza said at an earlier hearing
David Wells, a retired Los Angeles prosecutor, was featured in the documentary, "Roman Polanski: Wanted and Desired." Although he had never been assigned to handle the Polanski case, Wells said he goaded the judge.
He later recanted during an interview with CNN, saying he had inflated his importance in the celebrity case because he didn't think the documentary would be shown in the United States. It was broadcast in 2008 on HBO, which like CNN is part of Time-Warner.
Polanski's victim came forward long ago and has made her identity public, saying she was disturbed by how the criminal case had been handled.
Samantha Geimer, now in her 40s and a married mother of three, has called for the case to be tossed out. Her attorney, Larry Silver, reiterated her position last month, saying details of the case harm her every time the story is in the news.
Defense attorneys also argued that prosecutors are ignoring the victim's wishes.