Toronto bomb plotters sentenced; alleged mastermind gets life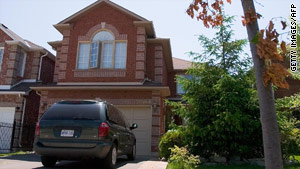 Zakaria Amara was living in this home at the time of his arrest in spring of 2006.
STORY HIGHLIGHTS
Zakaria Amara described as mastermind of "Toronto 18"
Toronto 18 is group of teens, young adults rounded up in the spring of 2006.
Police say group planned to detonate bombs in downtown Toronto
Charges against seven of the group were dropped or stayed
(CNN) -- Zakaria Amara, a man prosecutors say wanted to create a Canadian version of 9/11, was sentenced Monday to life in prison in Canada.
Amara, 24, has been described as the mastermind of a group known as the Toronto 18 -- a group of teenagers and young adults who were rounded up in the spring of 2006. Police say the group of young Muslim men from suburban Toronto -- all Canadian citizens -- were planning to blow up three one-ton ammonium nitrate bombs inside vans parked in downtown Toronto.
A police informant who infiltrated the group told CNN that Amara was planning to time the three explosions for September 11, 2006, the five-year anniversary of the attacks on the World Trade Centers in New York.
At his sentencing hearing last Thursday, Amara pleaded with the court for leniency. In a letter he told the court he was a changed man and vowing to transform himself from "a man of destruction to a man of construction."
Amara also was sentenced Monday to an additional nine years for his participation in a terrorist group.
Earlier Monday, Saad Gaya, a 22-year-old Canadian who was charged with being part of the plot, was sentenced to 12 years in prison.
Police were able to infiltrate the group and make arrests before the plot got dangerous. But the group actually did try to acquire the material needed, even testing their own cell-phone detonation devices, police said.
In an interview last November, Toronto's police chief, Bill Blair, told CNN the goal of the group was to kill as many Canadians as possible.
"The detonators they obtained worked, " Blair said. "Had they been able to obtain all the chemicals that they were trying to obtain, had they been able to detonate that in the city of Toronto, thousands of citizens would have been killed."
Blair has been critical of what he considers lenient sentencing for Toronto 18 suspects.
Charges against seven of the group were dropped or stayed.
Of those convicted, one is already free, after being sentenced to two-and-a-half years for participating in, and contributing to, a terrorist group.
Gaya, sentenced Monday to 12 years in prison, was caught on video tape unloading what he thought was ammonium nitrate to make the bombs. The public prosecution office in Canada says that with adjustments for time served, he could possibly be released after serving another four-and-a-half years.