Feds give up on prosecuting 'Junior' Gotti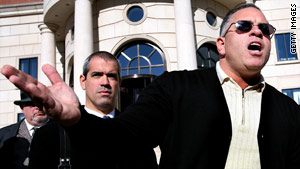 John A. "Junior" Gotti won't face a fifth racketeering trial after four hung juries.
STORY HIGHLIGHTS
Indictment against John A. Gotti dismissed after mistrial

Hung jury in December was fourth in series of federal racketeering trials

Prosecutors cite "circumstances" but don't elaborate

Gotti, 45, is son of late Gambino crime family leader John Gotti Sr.

(CNN) -- The Teflon apparently doesn't fall far from the tree.
After four trials in five years ended with hung juries, federal prosecutors appear to have given up on convicting John A. "Junior" Gotti of mob-related charges.
The U.S. Attorney's office in New York filed notice on January 8 of nolle prosequi, or non-prosecution, and it was promptly signed by a judge.
"The case is over, it's dismissed and it cannot be brought back," said attorney Ron Kuby, who testified at Gotti's trial and represented his father, "Teflon Don" John Gotti Sr..
After going 0-4 against Gotti, 45, prosecutors did not specify their reasons for seeking the dismissal. The only indication came in court papers filed by Assistant U.S. Attorney Elie Honig: "In light of all the circumstances, the government has decided not to proceed with the prosecution against John A. Gotti."
By signing the order Wednesday, U.S. District Judge Kevin Castel dismissed the case.
Gotti is the son and namesake of the late Gambino crime family leader, who was known as the "Teflon Don" after beating several federal cases. He was ultimately convicted and sent to a federal prison in Texas, where he died in June 2002.
"Junior" Gotti has long said he retired from organized crime after pleading guilty in 1999 to racketeering and agreeing to serve five years in prison. He was released in 2005 but has been under constant scrutiny by federal authorities.
Even before his release, Gotti was named in a 2004 racketeering indictment, alleging he ordered the beating of Guardian Angel leader Curtis Sliwa, who had criticized his father on a radio show. Three subsequent trials ended with hung juries.
In 2008, federal prosecutors in Tampa, Florida, revised the indictment to add the murder allegations.
The case was transferred to New York and Gotti spent two months last fall on trial before a fourth jury told the court it was hopelessly deadlocked, forcing yet another mistrial.
"The government cannot make Gotti spend the rest of his life in prison by trying him over and over again. He has been a full time defendant for the last five years," Kuby said. "If Gotti is going to go to prison, he's going to have to commit a brand new crime."