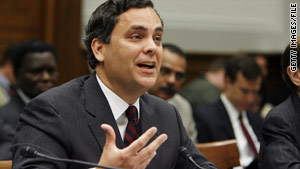 Law professor Jonathan Turley says he's not surprised that New Hampshire legislators may repeal the law.
STORY HIGHLIGHTS
Lawmakers to weigh repealing 200-year-old state law defining adultery as criminal offense
It's unclear when authorities last charged someone in New Hampshire with offense
Penalty reduced to a fine of up to $1,200 in 1992
Professor says he views such laws as unconstitutional
(CNN) -- Is adultery a crime?
Legislators in New Hampshire are revisiting that question as they consider repealing a 200-year-old state law that defines adultery as a criminal offense.
"I think adultery is a symptom of a relationship in trouble," said state Rep. Timothy Horrigan, a Democratic co-sponsor of a bill to overturn the law. "It's not a criminal offense."
Roughly two dozen other states also have laws that criminalize adultery, said Jonathan Turley, a Georgetown University law professor, who views the laws as "clearly ... unconstitutional."
Most such laws were written long ago when legislators cited morality to pass laws against homosexuality, fornication and other offenses, Turley said.
In New Hampshire, it's unclear the last time authorities charged someone with violating the law, Horrigan said.
"I just don't think the state should tell two consenting adults who they can sleep with," he said.
A committee of the New Hampshire House of Representatives plans, beginning Tuesday, to weigh a proposal seeking to repeal the adultery law.
"I think the more laws in the books, the more difficult it is to pay attention to the important ones," said Rep. Carol McGuire, a Republican co-sponsor of the bill who has been married for 28 years. "I've asked a colleague, and we can't find out who the last person charged was."
Over the two centuries that the law has been on New Hampshire's books, penalties have ranged from a year in jail or up to 39 lashes. In 1992, the penalty was reduced to a fine of up to $1,200 -- with no jail time.
The law defines adultery as sexual intercourse between a married person and someone who is not his or her spouse or between a single person and a married person.
Some representatives contend the law is archaic, difficult to enforce and not the state's business.
Others, however, said the law should remain in place because elimination would weaken families and, as a result, cost taxpayers.
Kevin Smith, executive director of Cornerstone Action, a conservative think tank in New Hampshire, said the state should not take a laissez-faire attitude toward infidelity. After working for years with juvenile justice services, he said that he saw firsthand the effects of adultery on children.
"If you think a broken family doesn't cost taxpayers, think again," Smith said. "It is the state's concern if more families dissolve because of the costs."
Smith said his group will propose an amendment to the repeal measure making it clear that adultery remains a civil offense and can be cited as a reason for divorce.
In seeking to overturn the law, Horrigan -- who divorced after a seven-year marriage that ended amicably -- advises against adultery, but he said a criminal investigation would complicate an already sensitive situation.
Turley, the law professor, said prosecutors would face several hurdles in bringing adultery cases to court. Adultery is so prevalent, he said, that it would be hard to find impartial or unaffected jurors.
He said adultery laws are the "ultimate example" of government keeping too close a watch on its citizens.
Turley said he isn't surprised that New Hampshire legislators may repeal the law.
"New Hampshire has a unique history that shows a libertarian streak of resisting government intervention in life," he said, "so it's not surprising that this is happening."
CNN's Evan Buxbaum and Edmund DeMarche contributed to this report.