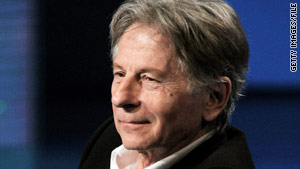 Director Roman Polanski is under house arrest in Switzerland pending extradition to the United States.
STORY HIGHLIGHTS
Director Roman Polanski faces extradition in 1977 teen sex case
His lawyers want U.S. trial to proceed without him
January 22 hearing set to decide if Polanski should be sentenced in absentia
Los Angeles, California (CNN) -- Even the judge wasn't sure why most of the players in the Roman Polanski drama were in court Wednesday.
The famed director, who pleaded guilty in 1977 to having unlawful sex with a 13-year-old girl, wasn't present, of course, because he is under house arrest in Switzerland pending extradition to the United States.
"It's not clear to me why we are here today," Los Angeles County Superior Court Judge Peter Espinoza told Polanski lawyer Chad Hummel. "Why don't you enlighten the court and counsel?"
After less than 20 minutes of legal wrangling, Espinoza ordered the prosecution and Polanski's attorneys to confer over a witness in question and set a January 22 date for a hearing to determine if Polanski should be sentenced in absentia.
Hummel has been pushing for the sentencing to proceed without Polanski since December, when a three-judge appeals panel ruled that was an option, but prosecutors have strenuously objected.
"Polanski sits in the comforts of his Swiss chalet," said Deputy District Attorney David Walgren. "The system requires that a fugitive not dictate the terms of this court process."
Attached to his request for the sentencing to proceed sans Polanski, Hummel submitted a "notarized writing" from Polanski requesting the same.
Hummel and his client asked that the sentencing hearing be "immediate," and asked the court to send subpoenas to several people, including former prosecutor David Wells; Marina Zenovich, director of the documentary "Roman Polanski: Wanted and Desired;" and entertainment industry writer Michael Cieply.
The original judge in the case, Laurence J. Rittenband, died in 1993.
Polanski, 76, was arrested in September on a U.S. arrest warrant stemming from the August 1977 case. He pleaded guilty then to having unlawful sex with a then-13-year-old girl five months earlier. He was 43 at the time. Prosecutors in Los Angeles dropped other charges in exchange for the guilty plea.
But Polanski fled the country before he was sentenced after learning that the judge in the case might not go along with the short jail term Polanski expected to get in exchange for the plea. He remained free, living mostly in France, before his arrest. Swiss authorities in early December released him from jail on $4.5 million bail "pending extradition" to the United States.
In addition to the push to sentence Polanski in absentia, his defense team has also sought an evidentiary hearing over allegations of prosecutorial misconduct early on. In February, before Polanski was arrested, Espinoza denied a request by Polanski's lawyers to throw out the charge, but left the door open to reconsider. The judge said in effect that he was tossing out the request without considering its merit because Polanski was not present.
During that hearing, however, Espinoza acknowledged problems with the way Polanski's case was handled years ago, mentioning a documentary film that portrays backroom deals between prosecutors and a media-obsessed judge who was worried his public image would suffer if he didn't send Polanski to prison.
"It's hard to contest some of the behavior in the documentary was misconduct," Espinoza said.
Polanski's attorneys appealed Espinoza's ruling, maintaining the judge could consider making that ruling without Polanski being present. But the appeals panel disagreed.
"We conclude that the trial court did not abuse its discretion" in failing to consider the motion without Polanski, said the 70-page opinion from the 2nd District Court of Appeal.
"Polanski is not without any remedy," the opinion said. "He is only without the remedy that he prefers: complete release not only from any threat of future punishment, but also from the very charges themselves -- despite the fact that no misconduct has been alleged impacting the validity or voluntariness of Polanski's plea to unlawful sexual intercourse -- and all without ever having to subject himself to the jurisdiction of the court."
The court said that in addition to asking to be sentenced in absentia, Polanski could cooperate with the extradition process and return to California, where he could ask that the case be dismissed. And because he has already fulfilled the terms of the short jail sentence he says he was supposed to receive, he could appear for sentencing and ask the court to honor that provision.
The court said he also could file a petition asking for a review of the case and a stay of sentencing proceedings.
Polanski's victim came forward long ago and has made her identity public, saying she was disturbed by how the criminal case had been handled.
Samantha Geimer, now in her 40s and a married mother of three, a year ago called for the case to be tossed out. Her attorney, Larry Silver, reiterated her position last month, saying details of the case harm her every time the story is in the news.