Man charged in Massachusetts fire deaths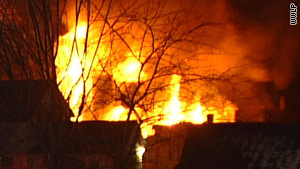 Five structures and numerous cars were destroyed in last month's fires in Northampton, Massachusetts.
STORY HIGHLIGHTS
25-year-old charged with murder, arson, armed burglary
Nine fires broke out within 75 minutes on December 27
Prosecutor says suspect was caught on camera in area of fires
Suspect's lawyer declines comment
New York (CNN) -- Investigators have charged a man with murder in the deaths of two people in one of nine fires that broke out within a 75-minute span recently in Massachusetts, authorities said Tuesday.
Anthony P. Baye, 25, was charged with arson and armed burglary in addition to the two counts of murder, prosecutors said in a statement. He is being held without bail.
Paul Yeskie, 81, and his son, Paul Yeskie Jr., 39, died of smoke inhalation in their home. That fire was among a rash of suspicious blazes that rattled Northampton, Massachusetts, on December 27, District Attorney Elizabeth Scheibel said.
The nine fires consumed five structures, including a single-family home, and numerous cars, Scheibel said.
Michael A. Cahillane, the prosecutor in charge of the case, told the Web site Masslive.com that Baye was questioned by police on the morning of the fires.
Baye told police that he was in the area visiting his girlfriend, Cahillane said. After questioning later, police said, his alibi was determined to be untrue, the Web site reported.
Cahillane also said surveillance cameras captured Baye in the area during the time the fires started.
Baye's lawyer, Alan Rubin, declined to comment about the case.
"I don't want this case to be decided in the press," he said.
A call to Baye's home was not immediately returned Tuesday.
Scheibel said that the spate of fires appeared to be a random spree and that an investigation is ongoing. Scheibel said the fires were all started intentionally.
The series of fires enraged the west-central Massachusetts community of about 28,000, prompting residents to grab phones and call in 300 tips, Scheibel said.
Some residents referred to the Yeskies as fixtures in the community and recalled an elderly man who continued to care for his autistic son despite his own advancing age.
Bob Reckman, a former city councilman, said a local group raised money to award those providing tips that lead to the arrest and conviction of the arsonist and even to compensate families affected by arson.
"It makes you fearful," Reckman said of the arsons. "Hopefully, they caught the guy that did it."