STORY HIGHLIGHTS
Sudanese refugee Garang Akau fled to America and graduated from Stanford University
He founded New Scholars to help Africans around the world start businesses back home
New Scholars runs "boot camps" in East Africa to test business ideas
The best business ideas are awarded between $10,000 and $30,000
CNN's Marketplace Africa offers viewers a unique window into African business on and off the continent. This week it takes a look at New Scholars, a project that supports new businesses in Africa.
(CNN) -- Garang Akau has cheated fate more than once in his short lifetime. While millions of his countrymen perished during Sudan's last civil war in the early 1980s, he managed to escape.
Along with other "Lost Boys of Sudan" he trekked a perilous 300 miles to a refugee camp in Kenya where he lived for the next six years. Eventually, with help from aid groups, Akau relocated to the United States where he had to start a new life without friends or family.
"It was really very tough. I grew up in a very rural part of Africa and life over there was so different. We weren't used to the technology, we weren't used to the high, fast pace of life," he said.
"So when I first came here I had to find a job within the first month to be able to support myself and support my people back home. So what I did was I trained for security, I worked security at nights and also worked at grocery stores -- just a lot of menial jobs -- and then went to school during the day."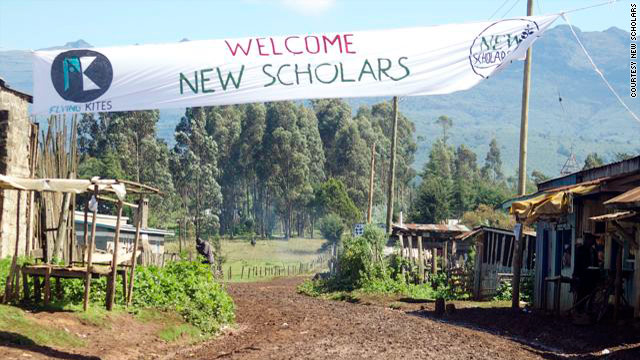 Gallery: New Scholars
Realizing that education was his best chance of success, Akau applied himself to his studies and, just a few years after arriving in the country, he graduated from prestigious Stanford University.
Armed with a degree in English and Political Science, Akau could have joined other graduates who set out to seek fame and fortune. But he had other ideas.
"As one of the most fortunate southern Sudanese who has had all the privileges and the best education, I feel the need to give back," he said.
Akau approached a college friend, seasoned entrepreneur Darius Golkar, and together they launched New Scholars, a venture to help young Africans around the world start up businesses back home.
As one of the most fortunate southern Sudanese who has had all the privileges and the best education, I feel the need to give back.
--Garang Akau, New Scholars
The staff of two rely on fundraising to survive. They work from coffee shops and their kitchen in Cupertino, California; throughout the day they meet with funders and talk by Skype with potential entrepreneurs. To become part of the New Scholars' program, candidates must speak English and have a solid business idea that would provide jobs for Africans.
To jump-start these ventures, New Scholars sets up business boot camps in Sudan and Kenya, where budding entrepreneurs work with mentors to flesh out their ideas.
"The idea is that out of every boot camp roughly five businesses will be invited to incubation. We will have two boot camps per year so in the next five years we hope to incubate 50 businesses," Golkar told CNN.
Every business that gets through New Scholars' incubator is awarded, on average, between $10,000 and $30,000. The money is used to fund ideas such as opening bakeries and renting out tractors.
These businesses may seem rudimentary by Western standards but in sub-Saharan Africa small enterprise currently contributes less than 10% to the GDP, compared with 50% in the United States, according to the Small Business Administration's Office of Advocacy.

Those businesses that successfully make it through the incubator may be invited to forge partnerships with New Scholars. Golkar and Akau intend to take an equity stake in the companies and use the money earned to channel more resources into their venture.

But their real focus is not making money -- it's getting Africa's youth interested in Africa's future. They are hoping to galvanize members of the Diaspora to return home and build up their country from within, just as Akau plans to do.
FOLLOW THIS TOPIC