Bank of America rejects conjecture that it is WikiLeaks' next target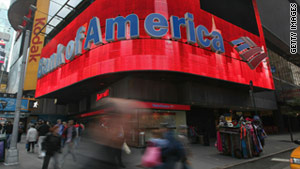 A Bank of America spokesman has dismissed speculation that the bank is the focus of the next WikiLeaks release.
STORY HIGHLIGHTS
WikiLeaks founder Julian Assange said in 2009 he had "5GB from Bank of America"
Bank spokesman says there's "no evidence" to support the claim
Forbes writer says Assange told him he had documents "on multiple finance firms"
(CNN) -- Bank of America tersely dismissed speculation Tuesday that it is the "big U.S. bank" that WikiLeaks founder Julian Assange told Forbes magazine will be the website's next target.
The left-leaning website Huffington Post published that conjecture, citing an October 2009 interview with Computer World magazine in which Assange said he had "5GB from Bank of America, one of the executive's hard drives." But bank spokesman Scott Silvestri said there was no more proof of that now than there was 14 months earlier.
"More than a year ago WikiLeaks claimed to have the computer hard drive of a Bank of America executive," Silvestri said.
"Aside from the claims themselves, we have no evidence that supports this assertion. We are unaware of any new claims by WikiLeaks that pertain specifically to Bank of America."
Assange teased Forbes in the interview published Monday, saying the information he was preparing to release "could take down a bank or two."

Assange: No one has been harmed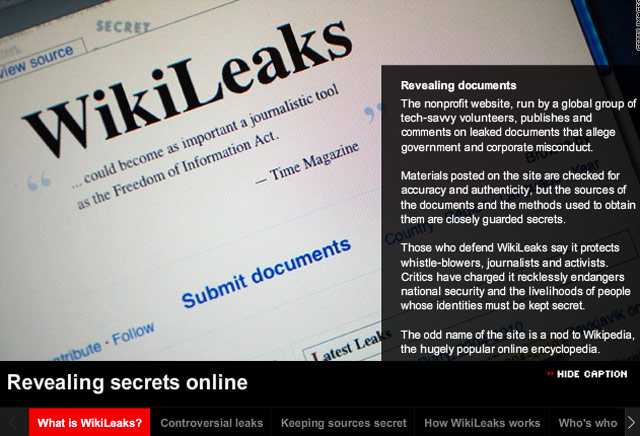 Revealing secrets online
"You could call it the ecosystem of corruption," he said. "But it's also all the regular decision making that turns a blind eye to and supports unethical practices: the oversight that's not done, the priorities of executives, how they think they're fulfilling their own self-interest."
Asked what he hoped would be accomplished by the leak, Assange told Forbes that "it will give a true and representative insight into how banks behave at the executive level in a way that will stimulate investigations and reforms, I presume."
Wall Street watchers, however, wondered just how damaging any material could be to one of the big banks, given that many are already plagued by scandal.
"We already know the banks are grossly incompetent, can't manage risk and would be dead without taxpayer support," Barry Ritholtz, a Wall Street money manager who rails on the bankers at his Big Picture blog, told Fortune magazine. "What are we going to find in these leaks -- that free checking isn't really free?"
"Anyone who follows the banking industry knows these guys are essentially insolvent," said Ritholtz. "So we're not going to get surprised there."
Forbes reporter Andrew Greenberg, who conducted the interview with Assange, noted in his blog Tuesday that there likely isn't much material about Bank of America that isn't already known.
"As much as any bank on Wall Street, BoA has been scrutinized in recent years by everyone from plaintiffs' attorneys in class-action investor suits to the New York Attorney General's office," he wrote, adding that Assange told him "he had unpublished, potentially damaging documents on multiple finance firms, beyond the bank 'megaleak' that we discussed."
FOLLOW THIS TOPIC


Part of complete coverage on

What next for WikiLeaks editor and founder Julian Assange, now that he's been released on bail in the UK?

Julian Assange says the sexual misconduct charges against him are little more than an effort to discredit him and his organization.

WikiLeaks editor walks out of London court after being freed on bail nine days after being arrested for questioning about alleged sex crimes in Sweden.

In 2006, Julian Assange was apparently looking for a date. After launching WikiLeaks, he evidently created a profile on OkCupid.com.

A court in London found itself in the world's spotlight, as a small army of celebrities turned up to offer support -- and bail money -- to Julian Assange.

The founders of Openleaks.org say they are former WikiLeaks members unhappy with the way the organization is being run under Julian Assange.

Hackers who support WikiLeaks want others to replicate the attacks they say took down the websites of MasterCard and Visa.

Does Julian Assange's threat to release "Doomsday Files" from Wikileaks carry validity?


Most popular stories right now