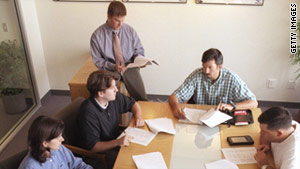 STORY HIGHLIGHTS
Making a good argument to the wrong audience is a waste of time
You'll argue better if you understand your opponent's logic and motives
Convincing your critics can help you win the crowd
(CNN) -- Whether it's winning a raise or clinching a deal, negotiation is integral to business life.
How can you do it better? CNN spoke with four experts on negotiating strategy who shared tips on how to get what you want.
The overarching theme of their suggestions: You should be willing to rethink your strategy and act in ways that may at times seem counterintuitive.
1. Focus on the conversation, not just the content
When you're at the negotiating table, you need to think about more than just your interests and creative plans of action, according to Jeff Weiss, a founding partner of consulting firm Vantage Partners.
Negotiators focus a great deal on the substance of their plan -- the objectives they need to persuade others to agree to. It's critically important to know the facts, but "people tend to under-invest in thinking about the process they use to have that conversation," he said.
If you're trying to get a project funded, for instance, making a good argument to the wrong audience is a waste of time. Make sure you're sitting down with the right person, Weiss said.
Target who you should be influencing and determine how to establish trust with those folks, he advised.
2. Think, rather than feel, from your opponent's perspective
Good negotiators know how to get inside an opponent's head. Instead of empathizing with your negotiating partner, evaluate their perspective and think about why they might think the way they do, says Judith White, a professor at Dartmouth's Tuck School of Business.
"Knowing what the other side is going to try to achieve in any kind of game or negotiation is going to give you an edge," she told CNN.
Empathy can make you look weak, or detract from aggressively pursuing your own interests, White said. Focusing on ideas, rather than feelings, keeps your objectives front and center, even as you consider the other person's side, she said.
3. Be willing to go against the grain
Knowing what the other side is going to try to achieve in any kind of game or negotiation is going to give you an edge.
--Judith White, Tuck School of Business
If you're trying to sell a client or co-worker on an idea that they think can't be done, it can pay off to stick to your guns and champion it, even if your negotiating partners want to dismiss it.
Successful leaders are willing to make mistakes in search of a "slam dunk," says Paul Schoemaker, founder of management consultancy Decision Strategies International.
"If we think too short term, if we think our views are correct and don't test them enough, it puts us on a suboptimal path in terms of our career," said Schoemaker, who is also a research director at the Wharton School of the University of Pennsylvania and is working on a book called "Brilliant Mistakes."
"If you look at people who make it to the CEO office they've been fired lots of times, they're not the obedient employees who only follow the narrow path. They zigzag."
4. Don't avoid your critics, exploit them
Your most vociferous opponents might turn out to be your best allies, according to John Kotter, a professor at Harvard Business School and who's just written "Buy-In: Saving Your Good Idea from Getting Shot Down."
"Instead of sweeping all the naysayers out of the process, allow them to come in," he said. Bored supporters who don't engage with your idea, he argues, ultimately present a bigger risk than noisy critics.
"Drama draws people's attention, it doesn't matter what the setting is. Once you've got people's attention, then you have the opportunity to make sure that they understand the idea," he said.
"And if you handle the attacks well, they'll understand it better and better, and they'll become more convinced that you are on to something, and more appreciative of you. You can get a bunch of people actually pumped up."
FOLLOW THIS TOPIC