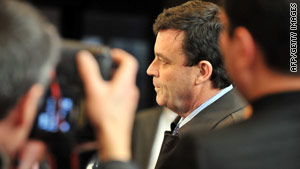 Irish Finance Minister Brian Lenihan faces journalists after a meeting of EU finance ministers in Brussels.
STORY HIGHLIGHTS
Irish Central Bank chief says he expects a substantial loan offer
International Monetary Fund and European Central Bank are involved
The European Commission is also at the meeting
They will be discussing problems in Ireland's banking sector
Dublin, Ireland (CNN) -- Officials from the International Monetary Fund and European Central Bank were in Ireland on Thursday to examine the country's debt crisis -- a visit that could result in a substantial loan, the head of the Irish Central Bank said.
The bank's governor, Patrick Honohan, told state broadcaster RTE the negotiations with the IMF and European officials were not about a bailout, but would lead to a loan of tens of billions of euros to Ireland.
He said that loan would be something the Irish government would have to accept.
"The intention is and the expectation is, on their part and personally on my part, that negotiations or discussions will be effective and a loan will be made available and drawn down as necessary," Honohan told RTE.
The money would go directly into Irish banks to shore up investor confidence, he added. The banks, many of which have been nationalized, are unable to loan to other banks.
One analyst said Ireland has no choice now but to accept outside money.
"In actual fact Ireland as a country, in financial markets, has no reputation now. We've got to rebuild it, and the reason you rebuild it -- or how you rebuild it -- is you rebuild your balance sheet," author and economist David McWilliams told CNN. "The situation is, if there is no money, we can't pay. And there is no money. That's why the IMF are here. If we had money, they wouldn't be here."
One issue domestically is what restrictions any loan or bailout would place on Ireland.
Analyst Alan McQuaid said there is a worry that Ireland could be required to charge higher taxes on companies. Ireland currently has the third-lowest corporate tax rate in the European Union, after Bulgaria and Cyprus, he said.
"It's a main plank of industrial policy here," McQuaid told CNN. "I think it would be counterproductive if Ireland were forced to raise corporate taxes. In effect, you'd be giving it one hand and taking away the other, and I think it would seriously damage Ireland's prospects on generating economic growth going forward that we need to get our budget back in balance."
European officials have been talking with the Irish government about the problems in its banking sector, which have led to fears of a collapse and talk of a possible bailout.
Two days of meetings in Brussels, Belgium, with European finance ministers this week kept open the idea of a bailout, even though Ireland has yet to ask for one.
"I want to be absolutely clear: We are not putting pressure on Ireland to resort to the financial assistance mechanism," said President Jose Manuel Barroso of the European Commission, which was also taking part in Thursday's talks. "But I reiterate that the EU mechanism is available and ready to be used if requested."
Barroso said the Irish government is making "enormous efforts" to resolve the crisis and is committed to working with the IMF, the ECB and the European Commission. He also predicted next year's Irish budget bill will prove that a 2014 target date for correcting excessive deficit is "firm and credible."
"But Ireland is addressing a very specific problem as far as the banking sector is concerned," Barroso said in his statement, which was released late Wednesday. "This must be done speedily and decisively to pave the way of full confidence to be restored."
Irish leaders have said their treasury is funded through the first half of 2011, but there are still fears the country's financial sector could collapse under the weight of the massive debt.
That Ireland shares the euro with 15 other European nations has raised concerns that its financial problems could affect the common currency and the wider European Union.
The European Union and IMF were forced to bail out Greece in May, coming up with a three-year, 110-billion-euro (currently $150 billion) loan to save Greece from defaulting on debt.
EU economic and finance ministers gave the go-ahead Thursday to reform the EU framework for financial supervision. The goal, they said, is to fix problems that were exposed during the Greek crisis.
As part of the reforms, the ministers decided to create a European Systemic Risk Board and three European authorities to supervise the banking, insurance, and securities industries, to be operational starting January 1, they said.
FOLLOW THIS TOPIC