Concern grows as Dublin spurns help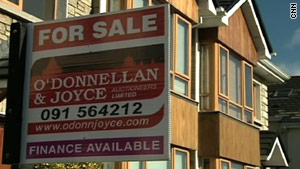 Like in the U.S., real estate speculation caused Irish debt crisis.
STORY HIGHLIGHTS
Irish officials insisted they did not need fiscal assistance
Pressure mounted through informal talks for Dublin to accept aid
EU wants Irish plans to restructure its banking system
Irish leaders have said the country needs no new cash until June
(FT) -- Irish officials insisted on Sunday that they did not need fiscal assistance from the European Union, even as pressure mounted on Dublin to accept aid and present plans to restructure its banking system.
Senior European officials held informal deliberations late into the evening to decide whether Ireland needed an aid package before the markets opened, in order to reverse a two-week-old bond market collapse that was briefly halted on Friday. Those discussions broke up, however, without any action taken.
Although Irish leaders have said the country needs no new cash until June, concerns about its finances have spread to other so-called "peripheral" EU economies, driving up yields on their government bonds.
But publicly Irish ministers reiterated that they were not in discussions with the EU and were determined to weather the storm. "We must show clearly that Ireland can stand alone and it's determined to get out of the financial difficulties we are in," Batt O'Keeffe, Irish enterprise minister, said on local radio.
Several European officials said that, despite concerns at the European Central Bank and elsewhere, the ultimate decision had to be made by Dublin.

Ireland haunted by 'ghost estates'
German officials "categorically denied" they were pressing the Irish government to accept aid. The ECB had no comment.
If the EU were to move to a bail-out, it is expected to tap a €60bn ($82bn) fund controlled by the European Commission, the EU's executive branch, which could be distributed quickly by a majority vote of member states. Although Ireland has been ruthless in cutting its budget to make a credible attempt at attacking its sovereign debt, Dublin has said it will wait until December to present a new austerity budget.
Other tranches of the EU's €750bn rescue system -- including a €440bn fund backed by all 16 members of the eurozone -- require more unanimity.
Some senior European officials, including at the ECB, believe that timetable is too long and something must be announced as soon as this week to win back credibility in the bond market. "Investors will still expect a restructuring if there is a continuing problem, bail-out or not," said Gary Jenkins, head of fixed income at Evolution Securities.
Behind the scenes, the ECB has put pressure on Dublin to take steps within days that would provide an urgently needed boost to confidence in Ireland's public finances and struggling banking system.
Some officials briefed on the talks said it was becoming increasingly likely that EU aid would be forthcoming. Only the timing appeared at question.
FOLLOW THIS TOPIC