European Central Bank leaves rate unchanged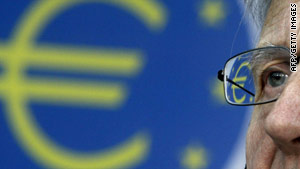 ECB President Jean-Claude Trichet, pictured at a press conference in October.
STORY HIGHLIGHTS
ECB keeps interest rate at 1 percent for 18th consecutive month
Euro rose sharply against dollar after Fed announced $600B quantitative easing plan
Rise poses problem for eurozone exporters; pace of growth already slowing
Frankfurt, Germany (FT.com) -- The European Central Bank has left its main interest rate unchanged at one per cent for an 18th consecutive month, maintaining a steady policy course even as the US Federal Reserve launches a renewed wave of "quantitative easing".
The decision to keep official borrowing costs at record lows was widely expected. The eurozone economy continues to expand, but the pace of growth has shown clear signs of slowing. Meanwhile, eurozone inflation, at 1.9 per cent in October, is within the ECB's target range of an annual rate "below but close" to 2 per cent.
However, the Fed's decision on Wednesday to buy $600bn of longer term Treasury bonds by the middle of next year has increased significantly the dangers facing the ECB.
News of the flood of money that the Fed will pump into the US economy sent the euro sharply higher against the dollar on Thursday morning -- posing fresh risks for eurozone exporters. At the same time, eurozone policymakers will worry about the potential threat to global inflation created by the Fed.
The ECB has in recent months had a slight modest "bias to tighten" and all but ruled out large-scale asset purchases in the eurozone -- although it was forced by this year's crisis over public finances in countries such as Greece, Ireland and Portugal to intervene in government bond markets.
The ECB has instead pumped additional liquidity in the banking system. But ECB governing council members also have ideological objections to "quantitative easing," which they fear blurs the boundary between fiscal and monetary policy and creates longer-term inflation risks. They worry, too, about the dangers of creating the next crisis by leaving interest rates too low for too long.
Financial markets will be listening for any whiff of criticism of the Fed's actions by Jean-Claude Trichet, ECB president, who gives a press conference later on Thursday -- although past form suggests he will stress his faith in the Fed's policymaking skills.
Attention will also focus on any clues about the next steps in the ECB's planned "exit strategy" to unwind the exceptional measures taken after the collapse of Lehman Brothers in September 2008.
The ECB has already stopped providing unlimited six month and one-year liquidity. The governing council is likely to decide in December whether to stop providing three-month liquidity on an unlimited basis.
Even then, the ECB would still regard its monetary policy stance as expansionary and banks would still be able to obtain unlimited seven-day and one-month liquidity. But the ECB's tightening bias might prove harder to sustain if the euro continues to strengthen and the economic recovery stalls.
FOLLOW THIS TOPIC