Nobel prize in economics to be announced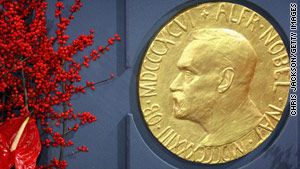 The Nobel Prize in economics was first awarded more than 40 years ago.
STORY HIGHLIGHTS
Prizes are already announced for achievements in other fields
American Ostrom became the first woman to win last year
(CNN) -- The Swedish Academy is due to unveil this year's winner of the Nobel Prize in economics on Monday.
It follows the announcements last week of the prizes in medicine, physics, chemistry, literature and peace.
Last year, American Elinor Ostrom became the first woman to win the economics prize in its 40-year history when she shared it with Oliver Williamson for work on how community institutions can prevent conflict.
The Nobel Memorial Prize in Economic Sciences was established in 1968 by the Central Bank of Sweden in memory of Alfred Nobel. It is given by the Royal Swedish Academy of Sciences, which since 1901 has been awarding the prizes for achievements in the aforementioned fields.
FOLLOW THIS TOPIC