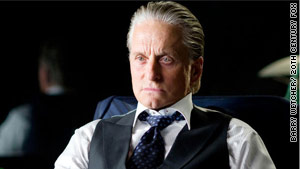 Gordon Gekko turned ignominy into a fortune after hitting bottom.
STORY HIGHLIGHTS
Don't take no for an answer -- and don't forget how often this rule might apply
Don't forget how small the business world can be, and watch your tongue accordingly
Don't lose track of the basics -- figure out what you're good at, and do it well.
London, England (CNN) -- Business second chances are in the air this month as Oliver Stone's anti-hero Gordon Gekko returns to the screen in "Wall Street: Money Never Sleeps." After 23 years, the reformed corporate raider is back, intent on parlaying his bitterly won experience into success.
Even executives who haven't pursued villainy can sometimes relate to Gekko's disheveled emergence back into the world. Learning from experience often doesn't feel good while the education is happening.
But in hindsight, misfires and disasters can build a stronger CEO. CNN asked three executives from around the world about the leadership qualities that can only be learned the hard way.
Keep your vision -- and your business -- flexible
David Ratner co-founded Ratio Capital in Singapore, intending to run a boutique investment shop and manage financial portfolios. He didn't realize how flexible his vision of the job was going to have to become.
"We've become highly involved in the Indonesian market," he told CNN. "I basically reside now in Jakarta as opposed to Singapore and we 're looking at a lot of direct investment venture capital."
"(Working) in a fast growing, wild west type place that's a little messy-- it's just an exciting place to be," he explained.
Don't take no for an answer, even from yourself
After a frustrating job at a company where he felt he didn't stand up for himself, Ratner has learned that holding your ground and pushing for something is worth taking a few risks.
"Taking no for an answer is not the way to go," he said. "People can tell you that over and over again and in the daily situation, you'll take no and not even realize it."
Keep your faith -- and make it work
Ratner also told CNN that self-belief must be matched with serious hard work.
"Right now, the venture investment we have in Indonesia is electronic money via mobile phone," he said. "It provides financial services to the world's poor, to people who don't have bank accounts and need bank accounts."
"Every day I wake up and say that this is just crazy," he revealed. "Every day I can see the reasons why it's going to implode -- but I get on with it and see that somehow it can work."
In the small world of industry, every word matters -- so watch your mouth
You can never imagine how small the world is, and how anything you are doing could be affecting someone else.
--Jenna Lyons
Jenna Lyons is president and executive creative director at J. Crew, an American clothing company. At 42, she has spent almost all of her working life there. But as she told CNN, it was at her first job in the fashion world, a student internship at Donna Karan, that Lyons got her first education from the school of hard knocks.
One day, she shared a juicy tidbit of gossip from the workplace with her fellow students, and the story got back to one of her superiors at the company.
"He pulled me into a closet and read me the riot act. It was a very painful thing to go through and I felt horrible, but it really was one of those situations where I realized I was being small and petty and not giving respect," Lyons said.
"It made me realize how small the industry is and how everybody knows everything," she revealed. "You can never imagine how small the world is, and how anything you are doing could be affecting someone else.
"It was a good lesson to learn at an early age," she continued. "If anything, I think, always try to defuse things rather than inflame them."
Follow fads at your own peril
Matthias Krups, CEO of the BCI Group, a construction information company based in Australia and southeast Asia, recounted an early, abortive attempt to ride the dotcom boom to quick and easy riches. Despite serious investment and media hype, his internet portal fell the way of many innovations attempted during the boom.
"We had built this incredible portal that was nothing more than the emperor's new clothes," Krups said. "Without flinching I had to tell people that we had this incredible portal that didn't exist and funding that had just fallen by the wayside. If you are heading towards a cliff at that speed, and you have a family and five kids and have just left a well-paying executive job in Europe and you're starting on your own -- you're responsible. You have no one to go to."
Focus on your strengths
But BCI refocused on its original strength in researching project leads. As it turned out, doing things the hard way was the wiser choice. Today it has locations throughout Asia.
"At the end of the day you should focus on what you're really good at. Yes, go with technological changes in the area that you are after, what clients want and you know you can provide," Krups said. "But stick with your business, stick with what you understand, the needs you can serve with what you're doing."
"People rely on your leadership," he explained. "They don't rely on you not making mistakes, but to work your way through the mistakes you made."
FOLLOW THIS TOPIC