STORY HIGHLIGHTS
Thailand's economic growth is on track for 6 percent this year
Comes despite the wave of violent protests earlier this year
Economists: Long term growth still at risk by political instability
Bangkok, Thailand (CNN) -- Thailand's economy appears to be shrugging off the recent political turmoil, with government growth forecasts being revised up for the second time in three months.
But economists urge caution about getting too upbeat. Thailand may achieve a remarkable 6 percent growth in gross domestic product this year, but long-term the prognosis isn't quite so rosy.
"As long as the emergency decree stays, it would be a tough sell to get the private sector to go full steam to invest and spend as they would do in normal times," said Kobsidthi Silpacahi, head of capital markets research at Kasikorn Bank.
In the course of the protests, more than 80 people died and 1,500 others were injured in the unrest. Part of Thailand remains under emergency law, which empowers the military to take charge of security.
Timeline of Thailand's political crisis

Video: Violence sets Bangkok ablaze

Video: Thai tourism reeling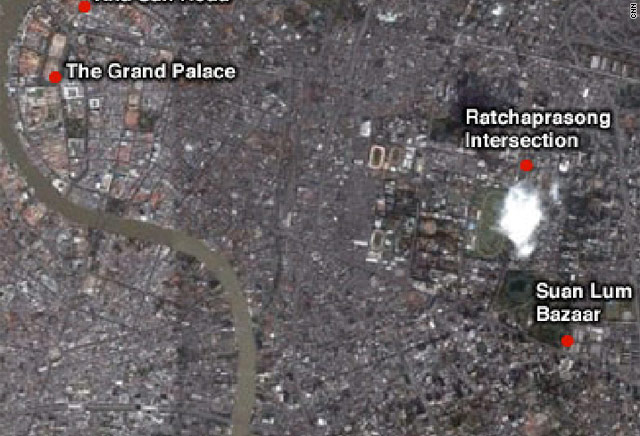 Map: Bangkok protests
Kobsidthi predicts that a lack of any long-term resolution of the Southeast Asian nation's political troubles could shave two percent off its annual economic output. "The Emergency Act signals a state of tension and would discourage inbound tourism, despite efforts to state ... that it is 100 percent safe to visit Thailand without fear of an M76 grenade going off," he said.
While tourism has taken a hit, products made in Thailand and sold abroad are keeping the economy here humming, despite the entire commercial heart of Bangkok having been in lock-down for six weeks in April and May.
Much of the growth is down to exports to the United States, Japan, China and the European Union. Factories churning out cars, electronics and food were largely unaffected by the anti-government Red Shirt protests.
Dr. Supavud Saicheua, managing director of Merrill Lynch Phatra Securities in Bangkok, is cautious about Thailand's economic prospects beyond this year.
"GDP can grow because of exports, in the long term it is sustained through investment," he said. "Over the longer term the political risk in Thailand has risen, and that would deter investment and that would imply a much lower GDP growth in the medium term."
Jennifer Cronin, vice president of sales and marketing at the Dusit Thani Hotel in Bangkok has been all too aware of the effects of the protests. Her hotel was actually hit by a grenade attack last month and was forced to close for eight nights. Now, it's open and "value adding" rooms for customers, in a bid to whip up trade, she said.
Special offers and packages seem to be bringing back tourists and business travelers. The hotel just hosted a huge wedding for an Indian couple, with more than 200 guests and the lobby is once again humming with people checking in and out. Cronin admits it's been a tough few weeks, but says things are looking up.
"Business has been better obviously we would like to see it back to previous years at this time, but we are cautiously optimistic it is picking up slowly," Cronin said.
Chai Srivakorn owns Gaysorn mall opposite Central World, which protesters tried and failed to burn down. As president of a local trade association, he says the protests cost local businesses $300 million in lost sales -- and more in bad PR.
"It's the image factor that has been affected - people feel that is it safe in Thailand now to come? What about the Thai people? If you look at people around here in this area now, this is very peaceful -- things are turning back normal very quickly now," he said.
FOLLOW THIS TOPIC