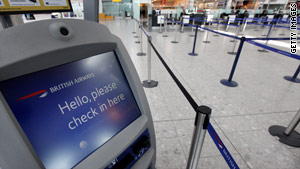 Passengers face disruption for five days from Monday.
STORY HIGHLIGHTS
British Airways' cabin crew union begins five-day strike
Union offers to call off strike if airline makes concession
Airline says it's putting contingency plan into operation to keep planes flying
London, England (CNN) -- British Airways cabin crews began a five-day strike Monday after talks with the airline over pay and working conditions failed over the weekend.
Two other strikes are scheduled soon afterward, but Tony Woodley -- the joint secretary for the Unite union -- has offered to call off the strike if the airline reinstates travel perks for staff.
A representative for the airline said British Airways was willing to continue talks.
BA has said it will implement contingency plans that will allow it to fly more than 70 percent of its customers during the first strike. It plans to operate all flights from Gatwick and London City Airports and more than half of its schedule from Heathrow, its main hub.
Have you been affected? Send stories, video, images
Unite union, which represents almost all of BA's 15,000 cabin crew members, went on strike over the issues twice in March, grounding flights and causing travel chaos for thousands of passengers across the globe.
Talks since then have failed to resolve the dispute, leading Unite to call the strikes this month and next.
Unite initially planned a series of four strikes, with the first one to have started May 18, but BA won an injunction that halted them.

Video: BA faces another strike

Video: BA CEO on record loss
Unite won an appeal against the injunction a few days later and vowed the remaining three strikes would continue as planned.
The latest negotiations came to a halt Saturday after protesters stormed the building where negotiations were being held, an airline spokesman said.
The talks had been ongoing for five hours, the spokesman said.
Police were forced to escort BA chief executive Willie Walsh away from the scene, he said.
Walsh on Sunday blamed Twitter messages from Unite joint leader Derek Simpson for the disruption of the meeting.
A tweet too far in BA strike talks?
"He was sitting opposite me and he did have his BlackBerry out," Walsh told the BBC. "I thought he was responding to an e-mail or a text message, but when I found out that he was actually sending his version of events to the wider audience, that really did undermine my confidence in their desire to settle this issue."
He said he was "shocked and angry" about the Twitter messages.
Simpson posted about eight times on the microblogging site during the meeting, his account shows.
He later condemned the disruption of the talks and said no union members were involved -- also on Twitter.
And, he tweeted, "If I have to apologise to Willy (sic) over twittering then I shall .... But I am not afraid of saying what is really going on ....."
The two sides were meeting at the central London headquarters of ACAS -- the Advisory, Conciliation and Arbitration Service -- when a crowd of demonstrators broke in and disrupted proceedings.
"No one was injured and the parties left the building safely but ACAS regrets that, as host to the parties, such an incident should have occurred," the group's Chief Executive John Taylor said.
CNN's Bharati Naik, Hilary Whiteman and Melissa Gray contributed to this report.