BA, union holding strike talks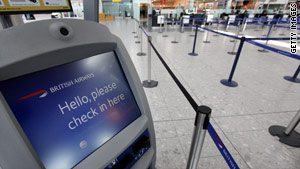 British Airways' cabin crew plan to strike for five days from Monday, May 24.
STORY HIGHLIGHTS
BA and cabin crew union holding talks Saturday to avert planned strike action
Five-day strike due to start Monday, May 24, two others scheduled for June
BA on Friday reported biggest annual loss since privitization
London, England (CNN) -- British Airways and the union representing its cabin crew were holding talks Saturday aimed at heading off a series of three planned strikes, the group mediating the talks said.
The two sides were meeting at the central London headquarters of ACAS, the Advisory, Conciliation and Arbitration Service, a spokeswoman said. It wasn't clear whether BA and the Unite union were meeting face to face.
The first strike is due to start Monday and last for five days. Two others are scheduled soon afterward, all part of the union's long-running dispute with BA over pay and working conditions.
Have you been affected? Send stories, video, images
"I believe that there is a window of opportunity this weekend for a negotiated settlement to be achieved." ACAS chief conciliator Peter Harwood said in a statement given to Britain's Press Association. "If an agreement is not reached this weekend, there is every possibility that additional pressures on both sides will ensue which will make a final resolution more problematic."
The Unite union, which represents almost all of BA's 15,000 cabin crew members, went on strike over the issues twice in March, grounding flights and causing travel chaos for thousands of passengers across the globe. Talks since then have failed to resolve the dispute, leading Unite to call the strikes this month and next.

Video: BA CEO on record loss
Unite initially planned a series of four strikes, with the first one to have started May 18, but BA won an injunction that halted them. Unite won an appeal against the injunction a few days later and vowed the remaining three strikes would continue as planned.
Unite Joint General-Secretary Derek Simpson said Saturday a resolution was possible, hinting that the only sticking point remained BA's revocation of travel perks for those staff that went on strike in March.
He said the outcome of Saturday's talks was in the hands of BA Chief Executive Willie Walsh
"We can reach a settlement here, but he's got to turn around and remove those vindictive, petty sanctions," Simpson told Sky News.
BA has said it will implement contingency plans that will allow it to fly more than 70 percent of its customers during the first strike. It plans to operate all flights from Gatwick and London City Airports and more than half of its schedule from Heathrow, its main hub.