Chinese court rejects appeals of 3 former Rio Tinto employees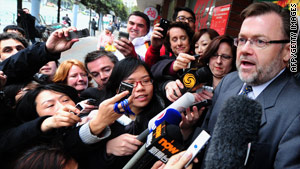 Australian Consul-General Tom Connor outside the Shanghai court on March 23.
STORY HIGHLIGHTS
Appeals court upholds sentence of three charged with commercial secrets theft
Australian mining executive, also convicted in original trial in March, did not appeal
The case was closely watched over fears of a China crackdown on foreign firms
(CNN) -- A Chinese court has upheld the conviction of three former Rio Tinto employees on bribery and stealing commercial secrets charges, state media said Monday.
The three were sentenced to prison terms from seven to 14 years in March. The British-Australian mining company fired them after their conviction.
An Australian executive, Stern Hu, who was also convicted on the same charges did not appeal, the Xinhua news agency said. He, too, was fired by the company.
The Higher People's Court of Shanghai ruled that the sentenced handed down on March 29 by the Shanghai No. 1 Intermediate People's Court was appropriate and followed due legal process.
The case was closely watched over fears of a government crackdown on foreign companies doing business in China.
The defendants whose sentences were upheld Monday are:

Video: Doing business in China

Video: China jails Rio Tinto staffers
-- Wang Yong, who received 14 years for bribery and stealing commercial secrets, and was fined 5.2 million yuan ($761,400)
-- Ge Minqiang, who received eight years and a fine of 800,000 yuan ($117,000)
-- Liu Caikui, who received seven years and a fine of 700,000 yuan ($102,500).
They also had various amounts of their personal assets confiscated.
The four originally received longer sentences, but they were all reduced under China's legal guidelines of overlapping sentences.
The Chinese government initially accused the four of stealing state secrets when they were first detained, but the charges were reduced to theft of commercial secrets.
Hu and the others were detained in July -- a month after Rio Tinto broke off an investment deal with China state-owned Chinalco, a resources company, that was worth more than $19 billion.
The deal with Chinalco was signed in February 2009 and was awaiting a review by Australia's foreign investment board.
The deal soured as opposition party members in Australia ratcheted up their disapproval, saying it would put Australian resources at strategic risk.
Others saw the deal as an alliance that would further link resource-rich Australia with the commodities-hungry Chinese market.