STORY HIGHLIGHTS
Hainan Island in China is a snapshot of property appetite in China
During a two-week period, some property prices raised 60 percent
Growth underlines fears of a property price bubble growing in China
Hainan Island, China (CNN) -- Hidden behind China's best quarterly growth in three years lies a figure that some fear is the Achilles Heel of the nation's economic recovery.
China's total economy grew 11.9 percent compared to the same quarter last year, the government announced Thursday. One of the things fueling that growth is the nation's voracious appetite for real estate -- investments in fixed assets are up nearly 26 percent this quarter. "Investment in fixed assets increased rapidly and that in real estate continued to accelerate," the National Bureau of Statistics noted in its announcement.
If you want to see that growth first hand, there are few places better to see it than the southeastern island of Hainan.
Few people outside of China would have ever heard of Hainan Island - in the U.S. it's best known as the place an American spy plane was forced to make an emergency landing in 2001, sparking a high-level diplomatic row.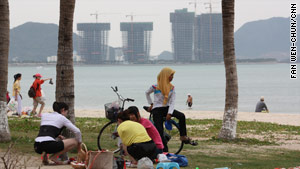 Sanya Bay Beach and Phoenix Island Project, one of the most expensive real estate devlopments in all of Hainan Island.
But as you fly in, the white beaches, blue sea, and -- unusually for China -- relatively clean air, the island feels more like a trip to Hawaii. At least, that's what officials in Beijing are hoping for -- in January the state announced plans to make Hainan Island, and its provincial capital Sonya, an international tourist destination by 2020.
Within days of that announcement, Hainan's already booming real estate market went nuts - state media reported that in five days, 17 billion RMB ($US2.5 billion) worth of real estate was bought and sold, more than the entire sales for 2008. On some luxury resort developments, prices went up 60 percent in two weeks. Property prices on average leapt 30 percent in January.
A few month months later, when I visited the island, that frenzied buying had cooled, but the prices remain sky high.
One reason for that - many developers seem to be holding back on releasing new projects, expecting much better returns later this year.
I went to Clearwater Bay, a massive development with three golf courses, plans for a six and seven star hotel, luxury shopping malls.. Here, word is the top salesperson sold 1.3billion RMB (almost $US200m) last year. I didn't get to meet him - obviously he knew I couldn't afford the $US10 million for a seaside villa, or the $1.4 million for a four bedroom apartment. Instead, Dawson Zhou showed me around.

Video: China's real estate bubble trouble
Zhou pointed proudly to various parts of the development - "Silver Sands" where the villas sold in less than a week, "Galaxy" the houses snapped up in two days. So who's buying I asked - and the answer was pretty obvious. "Rich people" Zhou told me. In fact, he later told me 85 percent of buyers were from the mainland.
Prices, he said ,just keep on rising - an apartment here bought off the plan for $US700, 000 six months ago was now selling for $1.4 million. How long could the prices keep going up?
"Ask the government," Zhou said.
And that really is the rub. A lot of experts believe China's property market is a giant bubble, created by government policies, especially an orgy of easy credit from the state-owned banks last year, with much of loans ending up in real estate purchases.
Those polices helped China avoid the worst of the financial crisis but may come back with a painful bite. In many places, like Sanya, there's anecdotal evidence ordinary people are taking huge loans and then flipping apartments and houses --the hallmarks of a U.S. subprime crisis in the making.
Derek Scissors from the conservative think tank the Heritage Group calls it a bubble with Chinese characteristics.
"We do have a bubble and there's going to be a rough patch for the Chinese economy coming out of this bubble."
How rough that will be depends on how lucky, smart and careful Beijing is when it comes to letting the air out.
Almost all of the increase in GDP growth in 2009 came from the property sector.
"The explosion of commercial property sales shows whatever economic growth it; it's reliant on what looks like a commercial property bubble," he said.
China is the best performing, fastest growing major economy in the world: if it falls in a hole later this year, many fear it may take the fragile world recovery with it.