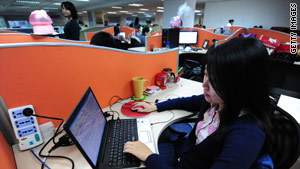 Give us your money not your clicks: How do you get business from the Twitterati?
STORY HIGHLIGHTS
Survey by Citibank found the 75 percent of small businesses don't find social media useful
Some web-savvy companies have found increased dialogue useful, but hard to quantify impact
Some predict that social media could be more important that web sites the near future
(CNN) -- Do an online search for the phrase "Has Bean Steve" and see the results that pop up: "Has Bean Steve" is on Twitter, Facebook, Flickr, MySpace, Vimeo, YouTube, and LinkedIn, not to mention at least a dozen or so blogs, forums and other social networking sites.
"Has Bean Steve" is Stephen Leighton, a former prison guard turned coffee connoisseur, who launched "Has Bean Coffee", a UK-based Internet coffee-roasting business that has a worldwide following thanks to Leighton's use of social media to leverage his products and interact with his customers around the globe.
Leighton, like other owners of small businesses are jumping on the Web 2.0 bandwagon, with some finding innovative approaches to sell products and services on the Internet.
"[Small businesses] are very fast to adopt new technology," said Tomas Gonsorcik, strategy director at the social media consulting firm Interaction London.
"They are constantly innovating what they sell or what they offer and having this first-hand relationship with the audience lets them know how their products are perceived and how they can make them more effective."
If someone recommends our product on Twitter or Facebook, seeing the impact is very difficult.
--Peter Crawfurd, shirtsmyway.com
However building genuine online relationships that are also good for bottom lines is sometimes not so easy, says Gonsorcik.
"There is a lot of trial and error," he said. "But at the end of the day, you need to be able to answer the question, 'What does this do for my business?'"
Many companies remain unsure about the answer to that question.
Even with shrinking advertising budgets due to the recession and a growing number of the unemployed branching out on their own to launch start-ups, studies indicate the uptake of social media by enterprises is not yet widespread.
More than 75 percent of small business executives in the United States say they have not found sites such as Facebook, Twitter and LinkedIn useful for generating business leads or expanding business, according to a survey conducted for Citibank Small Business last year.
Nearly 90 percent of the 500 companies surveyed said they have not used social networking sites for information or business advice.
"They are continuing to rely on what has worked for them, and I think social networking and social media is a bit of an experiment for some," said Maria Veltre, executive vice president of Citibank's Small Business segment.
"You need to have a time commitment, to be fresh and to be active. I am not sure all of the small businesses that may find it beneficial have figured out how to do that right now."
There are no special guidelines for figuring out exactly how to successfully integrate social media into business practices, said Matthew Yeomans, director of UK-based social media strategy firm Custom Communication.
"Some of the companies that have been very successful with social media have not had any kind of strategy," Yeomans said.
I am not sure that small businesses have figured out how to make social networking beneficial.
--Maria Veltre, Citibank
"Sometimes it is as simple as knowing your community and knowing how to take part within that community and through that creating great content or conversation that will raise awareness or increase sales."
However there are a number of challenges. Maintaining constant, and genuine, dialogue with customers who are on the Internet around-the-clock can be both time consuming and exhausting, requiring extra resources that small companies may not have, Yeomans said.
Leighton, for example, says he spends up to 17 hours a day, seven days a week, updating his coffee video blog, talking to audiences on Twitter and responding to every email he receives.
It can also be difficult for firms to gauge the effectiveness of their participation on forums like Twitter and Facebook.
"One of the challenging aspects of social media is getting concrete data on how effective it really is," said Peter Crawfurd, co-founder of ShirtsMyWay.com, a Shanghai-based company that delivers tailor-made shirts worldwide.
"If someone recommends our product on Twitter or Facebook, seeing the impact of each recommendation is very difficult."
And engaging with audiences in a more conversational, even personal, manner can be hard for firms accustomed to reaching out to customers via traditional advertising campaigns or marketing strategies.
"I don't know whether you can take someone who has worked 40 years in classic advertising and give them the controls of a Twitter account," said Lisa Rodwell, vice president of sales and marketing for MOO.com, a UK-based company that sells business cards generated from images uploaded on Flickr.com, a photo-sharing Web site.
Since MOO was founded in 2006, it has sold hundreds of thousands of cards to customers in more than 150 countries. The company attributes its growth largely to its activities on social networking sites.
"All of the people who work here were already users of these networks. We all have lived our lives on the Internet, so it was not a big jump for us to use these networks professionally," said Rodwell.
More businesses will be forced to make that jump, whether they are ready or not, according to Yeomans, who predicts having a Twitter and Facebook account for companies will soon be as, if not more, important than owning a Web site.
"It is still happening in a way that companies big and small really don't have any alternative but to be involved in social media," he said. "This is no longer a niche. This is a way we are living online, and the companies that adapt are the companies that will prosper."