Pentagon extends tanker bid deadline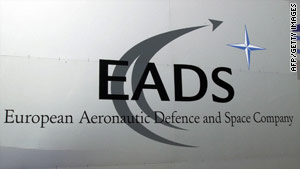 EADS will be given a two-month extension to bid for the refuel tanker contract.
STORY HIGHLIGHTS
U.S. extends deadline for firms to bid on new Air Force refueling tanker
Airbus parent company EADS will be given a 60-day extension to place bid
Pentagon expected to name winner of $35 billion contract in the fall

Washington (CNN) -- The Pentagon is extending its deadline for bids on a projected $35 billion-plus contract to build the Air Force's new air refueling tanker to allow Europe's Airbus to submit a proposal.
Airbus parent company EADS will be given a 60-day extension to put a bid in for the contract, Pentagon spokesman Geoff Morrell announced. Currently, the only other expected bidder is Boeing.
EADS had asked the Pentagon for a 90-day extension after its partner company, Northrop Grumman, dropped out earlier this month, saying new rules in the tanker competition favor the aircraft that would be built by Boeing.
"Since the Department of Defense indicated their interest in EADS' participation as prime contractor in the KC-X tanker competition, the company has carefully assessed the many requirements necessary to participate," said EADS North America spokesman Guy Hicks said in a statement e-mailed to CNN. "We have firmly indicated that a 90-day extension would be the minimum time necessary to prepare a responsible proposal for this $40 billion program. We will consider the department's decision to offer a 60-day extension."
The Pentagon's initial deadline to place a bid on the contract would have ended May 10. That deadline is being extended to July 9.
The Pentagon expects to announce a winner for the contract competition this fall.
EADS originally won the contract to build the tanker in February 2008, but a protest by Boeing reversed that decision, forcing the Air Force to change the requirements for the plane.
We recommend
Airbus threatens to scrap A400M aircraft