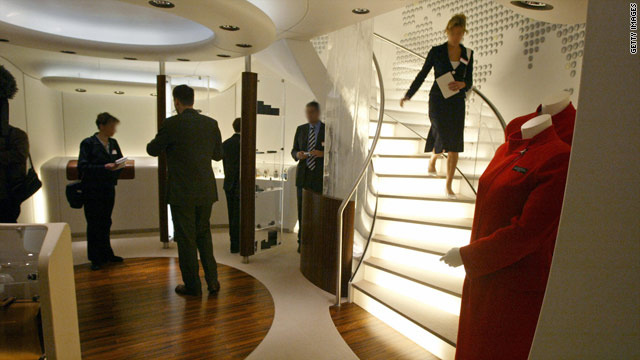 STORY HIGHLIGHTS
Annually, about 50,000 people go on "mileage runs" to collect enough air miles to retain status
Air miles collectors know every airline promotion, use smart strategies for more miles
Miles give frequent fliers the opportunity for that dream redemption
London, England (CNN) -- Some people collect rubber bands. Some people collect paper clips. And then some people are like Randy Petersen, founder of FlyerTalk.com, an elite group of people obsessed with plane loyalty schemes. "We collect frequent flier miles," he explains. "And in the process we collect our dreams."
Last year, the 200 members of Flyertalk.com flew from Frankfurt, Germany touching down in Norway and then France before finally arriving back where they started.
For these air miles collectors also known as "airmiles millionaires," it's the journey -- not the destination -- that counts.
"It is a once in a lifetime experience," said FlyerTalk community member David Balkan.
"Because we travel so much, the extra luxuries of lounges and upgrades to first class was an important element."
"When you spend seven or eight trips a month -- and as air travel gets more and more disrupted by security checks -- you like to have those creature comforts."
It's a scenario with which moviegoers will be familiar. Awards favorite "Up In The Air," stars George Clooney as Ryan Bingham, a suit flying from city to city in the pursuit of air miles.
Randy Petersen, founder of FlyerTalk.com understands the mantra of mileage millionaires all too well.

Video: The mileage run
He estimates that annually, as many as 50,000 people go on "mileage runs" towards the end of the year.
These fliers are hungry for one thing -- to collect enough air miles to retain or attain elite airline status. What they get in return is unsurpassed access to priority check-in lanes, first-class lounges and free upgrades.
"These are special experiences, the kinds of things that I would never in my life be able to afford to pay for, but miles give me the opportunity for that dream redemption," said Gary Leff, based in Arlington, Virginia.
Like Balkan, and other airmiles millionaires, Leff, makes it his business to know every airline promotion and use smart strategies to gain more miles which they can exchange for perks.
Leff, who has only ever flown first-class, has loyalty card status on all U.S. airline programs and currently has three million miles across all his accounts.
He told CNN that he is about to take advantage of an offer from a U.S. airline that will earn him 900,000 miles "without leaving my desk."
"They are offering a promotion for holiday shopping with 250 percent bonus -- if you participate with five different merchants. There's a merchant offering 40 miles per dollar -- that's 140 miles per dollar spent," he said.
San Francisco-based Gene Gibbs is also an arch air-miles strategist.
Gibbs flies 425,000 miles yearly and recently spent $7,000 "for something I'll probably never use," which racked up one million air miles.
"What that means is we can take eight first class tickets to Europe and Asia for $7,000 which works out to $875 dollars a ticket," he says. The tickets would've cost $15-20,000 each."
But, despite the smart strategies, Gibbs is not above the odd air miles run.
He once flew a round trip from San Francisco to Tokyo via Chicago O'Hare over a weekend for 30,000 air miles. His next run will be from Atlanta to Los Angeles for 125,000 air miles and elite "diamond status" with Delta airlines.
It's the lifetime perks and preferential status that have proved irresistible to Gibbs. "If it wasn't for the miles and status, we probably never would have started flying, and we probably wouldn't continue to do so," he said.
Or as FlyerTalk's Petersen puts it: "He who dies with the most miles wins."