This week on Marketplace Middle East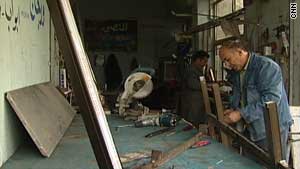 Businesses in Iraq struggle to find finance.
STORY HIGHLIGHTS
A non-governmental organization is providing loans for businesses in Iraq
MME speaks to small business owners who attribute their success to this program
Plus, Umayya Toukan, Governor of Jordan's Central Bank
(CNN) -- In focus -- Small business success in Iraq
For businesses in Iraq, security is not the only problem. Getting access to credit also remains an issue.
For businessmen in the country, finding finance for companies can be a long and complicated process.
Now, a non-governmental organization is facing the credit problem head on, providing loans ranging from $5,000 to $250,000. Since the program began in the spring of 2008, more than 970 Iraqi entrepreneurs have borrowed close to $18 million from nine private banks.
This week MME takes a look at some of the small business owners in Iraq who attribute their success to this program.
Facetime with Umayya Toukan, Governor, Central Bank of Jordan
He has been the Central Bank Governor of Jordan since 2001 and this week is being awarded Middle East Central Bank Governor of 2009.
The award from 'The Banker Magazine' celebrates his conservative banking and success maintaining stability and growth in the overall banking sector within Jordan.
MME talks to Umayya Toukan, the Governor of Jordan's Central Bank about his projections for the region in 2010.
Watch this show this week at the times (GMT) below:
Friday: 0915,1945
Saturday: 0715
Sunday: 0115, 0815