Argentina bank chief defies call to resign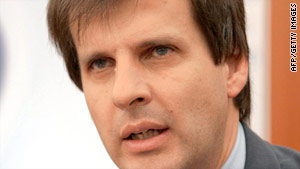 Argentine president's has called for Central Bank President Redrado's resignation.
STORY HIGHLIGHTS
A political standoff materialized Wednesday over a plan to use $6.5 billion to pay debt
Argentine president announced she accepted Redrado's resignation
Spokesman: the bank president "is not resigning from his post"
Buenos Aires, Argentina (CNN) -- A political standoff over the head of Argentina's central bank materialized Wednesday after the bank's president declined to support a plan to use $6.5 billion in reserves to pay debt.
Argentine President Cristina Fernandez de Kirchner announced that she accepted the resignation of Central Bank President Martin Redrado. But Redrado's spokesman fired back Wednesday, telling the state-run Telam news agency that the bank president "is not resigning from his post."
The dispute appeared to stem from a government plan to use $6.5 billion in reserves from the Central Bank to pay down debt, something that the central bank, as an independent body, declined to do.
According to Redrado, the proposal should be studied to see if such a request should come from the congress, rather than the nation's president.
Because of Redrado's failure to back the plan, Fernandez de Kirchner reportedly asked for his resignation.
Fernandez's cabinet chief, Anibal Fernandez, said that on various occasions, Redrado had said that he served at the pleasure of the president. But now that Fernandez de Kirchner tried to take him up on it, the central bank chief is digging his heels in. Under Argentinean law, it is the congress, and not the president, who can fire or name the head of the central bank.
Redrado's current term ends in September.
Some of Fernandez de Kirchner's political opponents have rallied around the central bank president.
CNN en Español's Javier Doberti contributed to this report.