MIAMI, Florida (CNN) -- Hurricane Bill was churning in the Atlantic Ocean early Monday evening with winds of 90 mph (145 kph), and forecasters said the storm -- still far from any shore -- could become a major hurricane by Wednesday.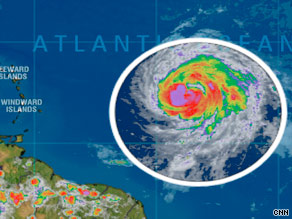 Hurricane Bill, in the Atlantic Ocean, had winds of 90 mph as of Monday evening.
Elsewhere, Claudette, which became the first tropical storm to hit the U.S. mainland this year when it made landfall in the Florida Panhandle on Monday morning, was downgraded to a tropical depression by 8 a.m. as it moved over Alabama.
Claudette was producing heavy rain across the Florida Panhandle and northward into Alabama and Georgia, and was expected to move into northeastern Mississippi by Monday night. Flash flood watches were in effect for some areas.
As for Bill, various weather models showed the hurricane either missing or barely grazing the west side of Bermuda at the end of the week as it heads toward the U.S. East Coast, CNN meteorologist Chad Myers said.

Track Hurricane Bill's path across the Atlantic »
Weather models showed Bill turning out to sea before reaching the United States, but it was too early to tell if it will indeed miss the United States.
"If this makes a run at the Carolina coast, the Northeast, even to New York City, this would be a major, major event. Right now that's not the forecast, but we'll see," Myers said.
Bill, the first hurricane of the 2009 Atlantic season, is expected to strengthen over the next 48 hours, the National Hurricane Center said.
At 5 p.m., Bill was heading west-northwest near 16 mph (26 kph) and was forecast to follow that path for the next two days, the hurricane center said. The storm was centered about 975 miles (1,570 kilometers) east of the Lesser Antilles. Hurricane-force winds extended outward up to 30 miles (48 kilometers) from the center, and tropical storm-force winds extended outward up to 145 miles (233 kilometers).
With sustained winds of 90 mph, and higher gusts, Bill was a Category 1 storm in the classification system used by the hurricane center. It would become a major hurricane if its sustained winds top 111 mph (179 kph).
Claudette made landfall about 1:15 a.m. near the eastern end of Santa Rosa Island, just southeast of Fort Walton Beach in Florida.

Watch as Claudette hits the Florida Panhandle »

A third weather system, Ana, also was downgraded from a tropical storm to a tropical depression. iReport.com: Are you in Claudette's path?
Ana was near the southern coast of the Dominican Republic by Monday evening. It was expected to drop 2 to 4 inches of rain over the Leeward Islands, with maximum amounts of 6 inches possible over mountainous terrain, the hurricane center said.
E-mail to a friend

All About National Hurricane Center • Florida • Weather