(CNN) -- Tropical Storm Claudette is expected to make landfall in the Florida Panhandle by early Monday, and the storm's outer bands already were pounding the area with heavy rain Sunday evening.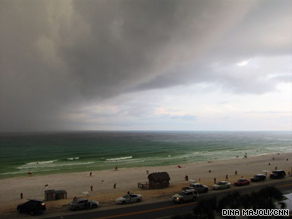 Tropical Storm Claudette is seen off the coast of Destin, Florida, on Sunday afternoon.
Claudette appeared on track to hit somewhere between Destin, Florida, and Panama City Beach, Florida, late Sunday or early Monday before moving through the panhandle and into southern Alabama, CNN meteorologist Jacqui Jeras said.
Heavy rain from Claudette was hitting some of the Florida Panhandle counties Sunday, and some coastal areas there had the potential for localized flooding, said John Cherry, spokesman for the Florida Division of Emergency Management.
"What we're just mainly asking is residents to stay off the roads tonight, and if you do approach a flooded area on a roadway, turn around," Cherry said.
Shortly before 11 p.m. ET, the center of Claudette, with maximum sustained winds near 50 mph, was in the Gulf of Mexico about 25 miles west of Panama City, Florida, and about 70 miles east-southeast of Pensacola, the National Hurricane Center said. It was moving northwest at about 12 mph.
A tropical storm warning was in effect from the Alabama-Florida border east to the Aucilla River. A tropical storm warning means tropical storm conditions are expected in the warning area in the next 24 hours.
The storm could bring 3 to 6 inches of rain, with isolated amounts up to 10 inches, across portions of the Florida Panhandle, central and southern Alabama and extreme southwestern Georgia. Storm surges and isolated tornadoes also were possible across portions of North Florida.

Authorities urged voluntary evacuations in the low-lying Alligator Point area of Florida's Franklin County because of concerns about possible flooding, said Mike Stone, spokesman for the Florida Emergency Operations Center. He said he knew of no other evacuations in the state.
Mariners in the Panhandle and Big Bend areas of Florida should stay at harbor, the Florida Division of Emergency Management said in a statement.
Meanwhile, two other severe storms were in the Atlantic Ocean on Sunday. Tropical Depression Ana, which was downgraded from a tropical storm Sunday afternoon, was moving across the Leeward Islands late Sunday, while Tropical Storm Bill was gaining strength as it followed behind Ana. iReport.com: Are you in Claudette's path?
Ana was about 25 miles (40 kilometers) southeast of Guadeloupe shortly before 11 p.m. ET Sunday. It was expected to enter the northeastern Caribbean Sea and weaken as it approaches the Dominican Republic on Monday, the center said. It was moving east near 26 mph, and its maximum sustained winds were close to 35 mph, the center said.
Tropical storm watches were in effect for Puerto Rico, the U.S. Virgin Islands, the British Virgin Islands, Montserrat, Antigua, Barbuda, St. Kitts, Nevis, Anguilla, St. Maarten, Saba, St. Eustatius, Guadeloupe, St. Martin, St. Barthelemey, and part of the Dominican Republic.

Ana was expected to drop 2 to 4 inches of rain over the Leeward Islands, with isolated maximum amounts of 6 inches possible over mountainous terrain, the hurricane center said.
Tropical Storm Bill -- which is forecast to become a hurricane on Monday -- was in the Atlantic heading west-northwest with maximum sustained winds of 70 mph. The storm's center was about 1,320 miles (2,120 kilometers) east of the Lesser Antilles shortly before 11 p.m. ET Sunday.
E-mail to a friend

All About National Hurricane Center