(CNN) -- Tropical Storm Claudette was gaining strength Sunday as it churned in the Gulf of Mexico toward the Florida Panhandle, the National Hurricane Center said.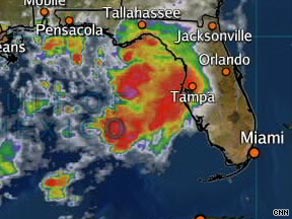 A satellite image from 2 p.m. ET Sunday shows a tropical storm nearing the Florida Panhandle.
At 2 p.m. ET, Claudette's winds had picked up to near 50 mph, based on observations by an Air Force reconnaissance plane. The center of the storm was about 40 miles south of Apalachicola, Florida, and about 160 miles from Pensacola, the center said. It was moving at about 14 mph, putting it on course to hit land by Sunday evening.
A tropical storm warning was in effect from the Alabama-Florida border east to the Suwannee River. A tropical storm warning means that weather conditions will likely deteriorate in the next 24 hours.
The storm could bring 3 to 5 inches of rain, with isolated amounts up to 10 inches, and storm surges across portions of North Florida.
Meanwhile, two other tropical storms were in the Atlantic Ocean on Sunday. Tropical Storm Ana was moving west but losing strength, forecasters said, while Tropical Storm Bill was gaining strength as it followed behind Ana.
Ana was about 240 miles (385 kilometers) east of Dominica at 2 p.m. ET Sunday. It was expected to arrive at the Leeward Islands by late Sunday or early Monday, the center said. It was moving about 25 mph, and its maximum sustained winds were close to 40 mph, the center said.
Tropical storm watches were in effect for Dominica, Puerto Rico, the U.S. Virgin Islands, the British Virgin Islands, Montserrat, Antigua, Barbuda, St. Kitts, Nevis, Anguilla, St. Maarten, Saba, St. Eustatius, Guadeloupe, St. Martin, and St. Barthelemey.

Tropical Storm Bill -- which could become a hurricane on Monday -- should be watched closely as it heads west-northwest in the Atlantic, possibly toward Florida, CNN meteorologist Reynolds Wolf said. The storm was 1,555 miles east of the Lesser Antilles at 11 a.m. ET Sunday.
Bill may reach Category 3 status as it bears down on the Leeward Islands Wednesday or Thursday, he said.
E-mail to a friend

All About National Hurricane Center