Lebanese leader on first trip to arch-foe Syria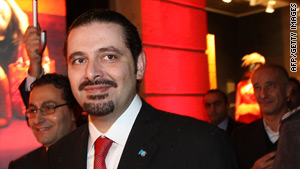 Saad Hariri is said to believe better relations with Syria are in the best interest of Lebanon.
STORY HIGHLIGHTS
Lebanese PM Saad Hariri in Damascus for first meeting with Syrian President Bashar Assad
Talks could signal thawing of icy relations between neighboring nations
Many Lebanese blame Syria for killing of Hariri's father, former leader Rafiq Hariri
Beirut, Lebanon (CNN) -- Lebanese Prime Minister Saad Hariri arrived in Damascus on Saturday for his first meeting with Syrian President Bashar Assad, Hariri's press office said.
The talks could signal a thawing of icy relations between the neighboring nations that further deteriorated after the 2005 assassination of Hariri's father, former leader Rafiq Hariri.
Atef al-Majdalani. a parliament member who belongs to Saad Hariri's Future Movement, described the meeting on the political party's Web site as "a normal visit to build good relations between Lebanon and Syria."
Al-Majdalani said Hariri sees better relations to be in the best interest of Lebanon and he separates the issue from his father's death.
The elder Hariri was killed in a massive bombing in February 2005 that also left 22 others dead. An United Nations investigation has found indications of Syrian involvement though Syria has denied any role.
Many Lebanese blamed Syria for the popular statesman's killing, which triggered massive protests that eventually led to the withdrawal of Syrian forces after almost 30 years of military and political domination of Lebanon.
The United States also accused Syria of the assassination and withdrew its ambassador four years ago. President Barack Obama decided to make an effort toward reconciliation and announced earlier this year that it was returning a U.S. diplomat to Damascus.
Hariri's visit with Assad is expected to last several hours and could be a pivotal moment in regional diplomacy.
Under international pressure, Syria opened an embassy in Beirut almost a year ago and a Lebanese ambassador arrived in Damascus a short while later. It was the first time the two foes established diplomatic ties since independence six decades ago.