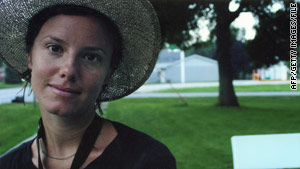 Sarah Shourd, seen in an undated family photo, is one of three U.S. hikers held in Iran since July.
STORY HIGHLIGHTS
NEW: Hillary Clinton says hikers not involved "with any kind of action against the Iranian state"
Shane Bauer, Sarah Shourd and Josh Fattal are being held on espionage charges
Trio accidentally strayed across Iran border while on hiking trip in Kurdistan, their families say
Secretary of state says U.S. has appealed to Iranian leadership to release hikers
Tehran, Iran (CNN) -- Three American hikers held in Iran will be put on trial, Iranian Foreign Minister Manouchehr Mottaki told the country's semi-official Fars News Agency on Monday.
The Americans were detained July 31, when, according to their families, they accidentally strayed across an unmarked border into Iran while on a hiking trip in Kurdistan. They are being held on espionage charges.
Secretary of State Hillary Clinton said the United States has appealed to Iranian leadership to release Shane Bauer, Sarah Shourd and Josh Fattal as soon as possible.
"We consider this a totally unfounded charge. There is no basis for it," Clinton told reporters Monday. "The three young people who were detained by the Iranians have absolutely no connection with any kind of action against the Iranian state or government. In fact, they were out hiking, and unfortunately, apparently, allegedly walked across an unmarked boundary."
The United States, which has not had diplomatic relations with Iran since 1979, has relied on Switzerland to appeal directly for the hikers' release. A Swiss diplomat has met twice with the Americans in their Iranian prison.
The most recent visit was on October 29, the hikers' families said the following day. "We were informed via the State Department that Shane, Sarah and Josh are in good physical shape and we're obviously happy they received another visit," the families said in a written statement.
Earlier in December, a group of several prominent activists, academics and celebrities joined the growing call for the release of Bauer, 27, Shourd, 31, and Fattal, 27.
Activist Gloria Steinem, billionaire businessman Richard Branson, actress Mia Farrow, the Rev. Jesse Jackson and Robert F. Kennedy Jr. were among a list of 80 international signatories who put their names on a petition that was sent to Iran's United Nations mission with a request to forward it to Iranian President Mahmoud Ahmadinejad.
This was the latest appeal calling for the hikers' release.
The families of the Americans submitted a grassroots petition to Iran's U.N. mission in October. The signatures on that petition, posted online, now number more than 4,700.
In September, Ahmadinejad stressed that he had no control over the case. He said that the crossing of the Iranian border by "several American citizens" represented an "illegal entry," an act that is "considered a crime everywhere."
"The judiciary handles these cases. The judiciary in Iran is completely independent, and no one can interfere with the process of the law and work of the judge," he said in an Associated Press television interview.
However, he also said, "What I can ask is that the judiciary expedites the process and give it its full attention ... and basically look at the case with maximum leniency."
The three hikers entered northern Iraq from Turkey on July 28 with plans for a five-day hike. Bauer and Shourd had been living in Damascus, Syria; Fattal was visiting.
They set out to hike in northern Iraq's Kurdistan region with a fourth friend, Shon Meckfessel, who did not go on the hike. He stayed behind because he had a cold, he has said. He also said his friends did not know they were near the border and made "a simple and regrettable mistake" by crossing into Iran.