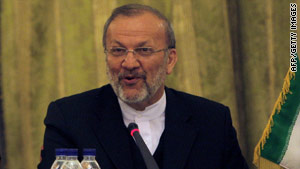 Manouchehr Mottaki said Iran will continue to cooperate with the IAEA.
STORY HIGHLIGHTS
U.S. and other leading nations negotiating with Iran to send low-enriched uranium abroad
U.N. nuclear watchdog, has proposed Iran send low-enriched uranium to Russia
White House warned Iran it faces further sanctions if it does not abandon enrichment activities
Iranian FM: Tehran has fully cooperated with IAEA and is ready to continue "constructive cooperation"
(CNN) -- Iran is ready to give up some enriched uranium in exchange for fuel that would power a reactor used in cancer research, the country's foreign minister said Sunday, according to Iranian media.
"We have explicitly declared that Iran is ready to exchange some 400 kilograms of 3.5 percent enriched uranium in Iran's Kish Island and receive 20 percent enriched fuel," Manouchehr Mottaki said, according to state-run Islamic Republic of Iran Broadcasting (IRIB).
The report offered no further details on the plan.
The United States and other leading nations have been negotiating with Iran to send low-enriched uranium abroad, where it would be turned into material for use at the reactor.
The International Atomic Energy Agency, the U.N. nuclear watchdog, has proposed that Iran send low-enriched uranium to Russia and then France for processing.
But a senior State Department official told CNN Iran's proposal does not appear to be consistent with the IAEA draft agreement.
"The terms of that agreement call for Iran to send 1,200 kilograms of its low-enriched uranium to Russia in one batch, where it would be further enriched and then sent to France for fabrication into fuel assemblies," the official said.
"We remain committed to these terms. Unfortunately, Iran has been unwilling to engage in further talks on its nuclear program.
"The draft agreement reflects an extensive effort by the IAEA, Russia, France and the United States to respond positively to Iran's request for fuel for the Tehran Research Reactor, which produces medical isotopes," the official said.
"It also offers an opportunity for Iran to begin to build confidence in the peaceful nature of its nuclear program. We urge Iran not to squander this opportunity."
The deal could reduce the amount of material Iran has to make a nuclear bomb. America and some of its allies fear Iran's goal is to produce a nuclear bomb, but Tehran has insisted its nuclear program is only for peaceful purposes.
Mottaki, attending the Manama Security Meeting in Bahrain, said Iran has fully cooperated with the IAEA and is ready to continue its "constructive cooperation" with the so-called "P5+1" -- the United States, Russia, China, Britain, France and Germany, according to IRIB.
Nuclear weapons have no place in Iran's defensive doctrine, he said, and Tehran believes the era where nuclear weapons were effective leverage has come to an end, IRIB reported.
Last month, the IAEA board passed a resolution demanding that Iran stop construction on a once-secret nuclear enrichment facility near the Iranian city of Qom.
Thirty-five countries, including Russia and China, backed the measure, which also demanded that Iran stop uranium enrichment, which can be used for producing fuel for a nuclear weapon. Russia and China previously had resisted the push for imposing stronger sanctions on Iran.
In the wake of that resolution, Iran announced its Cabinet had authorized the construction of 10 new nuclear production facilities.
The White House warned Iran earlier this month it faces further sanctions if it does not abandon its enrichment activities and "forsake their nuclear weapons program," spokesman Robert Gibbs said.
The outgoing head of the IAEA, Mohamed ElBaradei, told CNN's Christiane Amanpour last month that timing is the top issue delaying a nuclear deal between Iran and the international powers.
Rather than sign on to the draft agreement outlining the swap plan, he said, Iran wants to ship out low-enriched uranium and simultaneously get back more enriched material, which would enable it to receive the fuel more quickly, ElBaradei said.
In his final report to the IAEA's governing board, ElBaradei said the agency had been able to verify that no known stocks of nuclear fuel had been diverted from authorized uses in Iran. But, he said, inspectors "have effectively reached a dead end" without further cooperation from Tehran.
On Sunday, Iran's parliament speaker, Ali Larijani, said in an address to lawmakers that ever since the 1979 Islamic Revolution, Iran has been targeted by enemies of Islam, including the United States and its allies.
"Mr. Obama's cheap remarks about IRI's (Islamic Republic of Iran's) internal affairs, as well as U.S. minister of state's statements accusing Iran of supporting terrorism all reveal their worries about IRI's increasing influence in the region," Larijani said.
On the nuclear issue, he said the United States and others don't want Iran to continue its nuclear activities under the framework of the IAEA.
CNN's Jill Dougherty contributed to this report.