Gates predicts new sanctions against Iran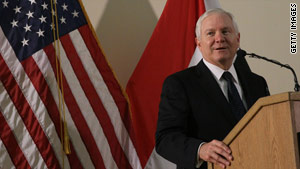 Defense Secretary Robert Gates says he expects Iran to face "significant" sanctions by the international community.
STORY HIGHLIGHTS
Defense Secretary Robert Gates says Iran will face new sanctions over nuclear program

Iran acknowledged existence of nuclear facility earlier this year

Western countries fear Iran is developing nuclear weapons

Baghdad, Iraq (CNN) -- U.S. Defense Secretary Robert Gates said he expects Iran to face "significant" new sanctions over its nuclear program.
Gates, who was visiting northern Iraq on Friday, held a town hall meeting with about 300 soldiers and airmen in Kirkuk. He arrived in the country Thursday after a two-day trip to Afghanistan.
At the meeting, Gates discussed Iran's nuclear program.
"I think you are going to see some significant additional sanctions imposed by the international community," he told the troops.
His comments came a day after the United States and other envoys warned that Iran faced tougher sanctions if it did not comply with U.N. Security Council resolutions. The envoys slammed Iran for transporting arms and ammunition to Syria, saying the clock is ticking for the Islamic republic.
"Patience is running out," said Mark Lyall-Grant, the British ambassador to the United Nations. "If there is no change of approach, then clearly the Security Council will need to look again at further sanctions against Iran in the new year."
Iran shocked the world in September with the revelation of a nuclear facility it had been building secretly in the holy city of Qom. Since then, it has allowed inspectors from the U.N. nuclear watchdog agency to visit the plant.
Western powers fear Iran is intent on developing nuclear weapons, a claim Tehran denies.
Before meeting the troops, Gates met with Iraqi Prime Minister Nuri al-Maliki, who had canceled a meeting with him a day earlier so he could discuss a devastating bombing with Iraqi lawmakers.
At least 127 people died in a string of five suicide car bombings in Baghdad on Tuesday, and 448 were wounded. A group linked to al Qaeda said it carried out the attacks.