STORY HIGHLIGHTS
British government sources release names of five crew members
Five British nationals detained by Iranian Navy; all believed to be safe
UK foreign office: Vessel "may have strayed inadvertently into Iranian waters"
Yacht, owned by Sail Bahrain, was sailing from Bahrain to Dubai
(CNN) -- Britain said Tuesday that it has asked Iran for a "speedy resolution" in the case of five British sailors being held by Tehran.
The request came as Peter Ricketts, permanent undersecretary and head of the British Diplomatic Service, met with Iran's ambassador to the United Kingdom in London on Tuesday, the spokeswoman said in a statement.
The five men were detained by the Iranian navy November 25 after their racing yacht apparently drifted into Iranian territorial waters, British officials have said. The vessel was traveling from Bahrain to Dubai.
"The Permanent Under Secretary met with the Iranian Ambassador this afternoon," said the statement.
"He reiterated the points we have lodged with the Ministry of Foreign Affairs since Sunday, including the need for confirmation on where they are being held, consular access, and for a speedy resolution to this matter.
"He made clear that we are approaching this matter in a calm, but resolute manner, and that aggressive rhetoric will not improve the situation," the spokeswoman's statement said.
Foreign Secretary David Miliband spoke Tuesday night with Iranian Foreign Minister Manouchehr Mottaki, the British Foreign and Commonwealth Office said in another written statement.
Miliband "pressed Mr. Mottaki for clear information on what had happened and for a statement of Iranian intentions in respect of the five," it said.
"He reiterated our demand for formal consular access to the men and his hope that this issue be brought to a speedy conclusion and the release of all five. The Iranian foreign minister undertook to get the foreign secretary a response on these points at the earliest possible opportunity."
Those who had had contact with the men agreed that they were being treated well and seemed to be in "good spirits."
The yacht, owned by Sail Bahrain, is called the Kingdom of Bahrain, according to a diplomatic source and Sail Bahrain's Web site.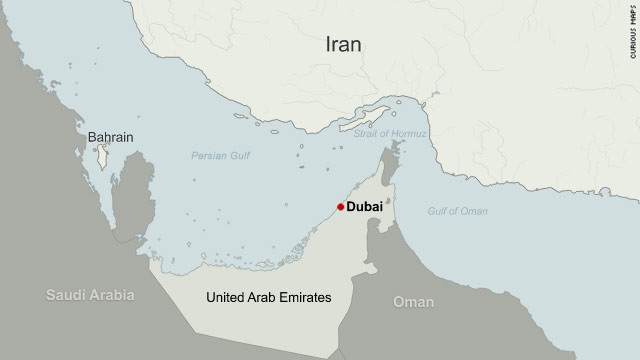 A map of the Gulf
Andrew Pindar, Sail Bahrain's chairman, said Tuesday evening that the men had had problems with the boat's propeller -- the father of one sailor said it fell off -- and that this might have caused them to inadvertently drift into Iranian waters.
"Our thoughts are very much focused on the safe return of the crew," he said in Eastenfiel, England.
British government sources identified the sailors as Oliver Young, Olly Smith, Sam Usher, Luke Porter and Dave Bloomer.
The Times of London said Young and Porter are 21 years old, Usher is 26, Smith is 31, and Bloomer is believed to be in his 60s. Bloomer is from Dublin, Ireland, the paper said, and apparently has dual citizenship.
"Through the limited contact we have had with the crew, we are pleased to confirm that they appear to be in good spirits and have confirmed that they are being well looked after," Pindar said.
He said the yacht was en route to join a race. On the way, he said, "we received a call from the crew stating they'd been stopped by an Iranian naval vessel."
All the men are experienced sailors, Pindar said. Smith, who was the skipper, has sailed more than 100,000 miles, according to the chairman. The company has someone on the ground in Dubai to handle logistics when the men are released, he added.
Earlier Tuesday, the Farda news network in Iran quoted an informed source as saying that the government expected to release the men in a "matter of hours."
Farda is not a state-controlled media outlet. The information could not independently be verified, and as it got later, no announcement was forthcoming.
David Young, Oliver Young's father, said Tuesday that the crew was being held on an island near where they were detained.
Outside his home in Saltash, England, David Young said he was able to speak to his son briefly Monday because one of the other detained men had a mobile phone. The Iranians let the call go through, he said.
Iran confirmed early Tuesday that it had arrested the British nationals, with one official saying they could be dealt with "severely," the country's semi-official Fars news agency reported.
"We shall deal severely with the five arrested U.K. citizens, if it is proven that they had ill intentions," said Esfandiar Rahim-Mashaie, chief of staff for Iranian President Mahmoud Ahmadinejad, according to the news agency.
David Young said the men have "all been well looked-after, they've all been fed well ... they are ashore somewhere ... they seem in good spirits."
"They seem to be fine," he added.
"We're concerned, but we believe it will be resolved very quickly," he said, adding that British officials were contacting family members daily.
Young said that before the boat was discovered in Iranian waters, it had lost its propeller. There was very little wind, which made steerage even harder, he added.
Miliband said Tuesday that "it seems they may have inadvertently strayed into Iranian waters."
He said the British contacts with the Iranians indicate that they are dealing with the situation in a "professional and appropriate way."
"There's obviously a high level of concern about the five young yachtsman and their position. Obviously, it's a particularly worrying time for the families," he said.
"We understand that the five young people have been treated well, which is obviously good and right."
Miliband said the intervening Eid holiday in Iran slowed the diplomatic process somewhat.
University students are planning a gathering Wednesday in front of the British Embassy in Tehran to protest the alleged encroachment in Iranian waters by British sailors, Fars reported Tuesday.
The students also want British authorities to return a suspect allegedly wanted in the killing of Neda Agha-Soltan, a 26-year-old woman who became an icon after she was killed during the post election riots in Iran this summer, Fars reported.
Protesters believe that the suspect is in the United Kingdom, the agency reported.
Asked whether the outcome of the yacht incident would be linked to ongoing concerns about Iran's nuclear program, Miliband said that would not happen. "This is a human story of five young yachtsmen," he said. "It's got nothing to do with politics, it's got nothing to do with nuclear-enrichment programs."