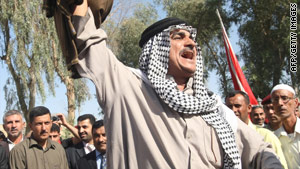 Iraqis in Basra protest the actions of a legislator that could jeopardize the upcoming elections.
STORY HIGHLIGHTS
NEW: U.S. military plans don't depend on election, Pentagon spokesman says
Tariq al-Hashimi vetoed first election law last week, saying more seats for refugees needed
Revised bill passed by Iraq's parliament "unconstitutional and unfair," he said
Elections, called for by January 31, are seen as barometer of Iraqi progress toward stability
Baghdad, Iraq (CNN) -- Iraq's Sunni Arab vice president said Tuesday he will again veto legislation that sets the framework for the country's upcoming elections, saying revisions passed after his first veto made the bill worse.
Tariq al-Hashimi vetoed the Iraqi parliament's first election law last week, arguing that it failed to provide enough seats for Iraqi refugees, many of whom are Sunnis.
A revised bill passed by Iraq's parliament on Monday remains "unconstitutional and unfair," al-Hashimi said in a statement issued by his office.
The previous law "was more fair to Iraqis than the new law, which Mr. al-Hashimi will deal with just like he dealt with the previous one," the statement said.
Iraq's constitution calls for elections by January 31. The vote is seen as barometer of Iraqi progress toward stability and a key benchmark in plans for a U.S. withdrawal from Iraq. But the disputes over how seats will be allocated in a new parliament have put the vote in jeopardy.
Lawmakers need a two-thirds majority to override a veto, but Iraq's parliament adjourned until December 8 after passing Monday's revised bill. Iraq's top electoral commission -- saying it needs 60 days to prepare for voting -- announced last week that a January vote is unlikely and suspended its preparations.
Al-Hashimi said the election bill is unfair to Iraqis who were forced to flee violence in their homeland, and he refused to sign it without an amendment that would increase the number of seats allocated to refugees and small political parties that could not get enough votes on a national level.
In addition to al-Hashimi's objections, Kurdish leaders had threatened to boycott the upcoming vote unless provinces with heavy Kurdish populations get greater representation in the next parliament.
The law that parliament passed Monday included revisions the Kurds had sought, but not those al-Hashimi demanded. Al-Hashimi's office said the new law was passed without "national accordance" and outside parliament's usual way to deal with "sensitive national legislation of this caliber."
"What happened constitutes a dangerous precedent that will negatively overshadow the overall political process," the statement said.
Iraq's constitution requires laws to have the unanimous approval of the country's three-member Presidency Council -- al-Hashimi, Shiite Vice President Adel Abdul Mehdi and President Jalal Talabani, a Kurd.
About 115,000 American troops remain in Iraq, and the Obama administration plans to pull all but 30,000 to 50,000 of them out of the country by August. Washington is not insisting on elections before January 31, but the "overall time frame" is important, said Christopher Hill, the U.S. ambassador in Baghdad.
"Some slippage will be OK, but we don't want a lot of slippage," Hill said Tuesday. "So, I hope they look very carefully at this and hope that they can get moving."
In Washington, Pentagon spokesman Geoff Morrell told reporters that U.S. military plans don't depend on the election.
In any event, "there is still plenty of time for this election to be held," he said.
"I think we are still operating under the assumption -- certainly the hope -- that these elections can still be carried out as scheduled," he said.
CNN's Jomana Karadsheh contributed to this report.