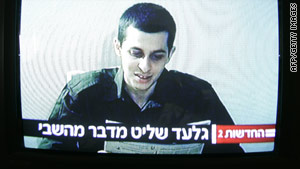 Israeli soldier Gilad Shalit is seen in a video released last month by Hamas.
STORY HIGHLIGHTS
Hamas sources say talks in Cairo will address possible release of Gilad Shalit
Israel refuses to confirm any details, warns of "twisted" info in news reports
Israeli president says "there is progress" in negotiations with Hamas
Shalit was captured in 2006; Hamas released video last month showing him in good health
Jerusalem (CNN) -- Talk of a possible deal to release an Israeli soldier captured more than three years ago heightened Monday amid diplomatic activity in the region.
Representatives of the Palestinian militant group Hamas are expected to arrive in the Egyptian capital of Cairo later in the day to discuss the possibility of a deal that would include the release of Gilad Shalit, the Israeli soldier captured by Hamas in a 2006 raid near the Israel-Gaza border, Hamas sources said.
In exchange, Israel could agree to release Palestinian prisoners.
In Israel, the soldier's father, Noam Shalit, met Monday with Hagai Hadas, the Israeli government's top negotiator working to secure the release of his son.
Israeli Prime Minister Benjamin Netanyahu issued a statement Monday, refusing to confirm any details of the ongoing efforts to secure Shalit's release -- and warning against the details published in some press reports.
"Recently lots of information originating from overseas and foreign media have been published, whilst they are not authorized to do so and some of them are even purposely twisted," the statement said. "The efforts to release Gilad Shalit are continuing all the time, far away from the eyes of the media and we do not wish to add to this."
Over the weekend, Israeli President Shimon Peres hinted that the talks could be at a critical juncture:
"As is known, there is progress and I hope that the matter will come to a positive end," Peres said Sunday after meeting with Egyptian President Hosni Mubarak in Cairo.
When asked about the reports, Israel's top military official, Chief of Staff Gabi Ashkenazi, said "it is not right to add to what is been published which has already caused damage." He spoke on Sunday while visiting new recruits.
The Hamas delegation -- which includes representatives from Syria and the Palestinian territory of Gaza -- will be led by senior Hamas official Mahmoud al-Zahar, Hamas sources said. They are scheduled to meet with Egyptian and German mediators in Cairo in an attempt to wrap up the deal, the sources said.
Hopes of securing Shalit's release were raised last month when Hamas handed Israel a minute-long "proof of life" tape of the captured soldier in return for the release of 20 female prisoners. There has been speculation that a deal could be finalized to coincide with the Muslim holiday of Eid al-Adha, which falls on Friday.
There are several logistical obstacles that could delay any possible deal. Israel's government is obligated to publicly announce the list of any prisoners to be released and provide a 48-hour period for any objections to their release before a deal can take place.
Shalit was 19 when he was captured on June 25, 2006, by Palestinian militants from Gaza, including those from Hamas. The militants tunneled into Israel and attacked an Israeli army outpost near the Gaza-Israel-Egypt border, killing two other soldiers in the assault.
Israel immediately launched a military incursion into Gaza to rescue Shalit, but failed.
Last month, the video was released showing Shalit sitting in a chair, reading a newspaper dated September 14, 2009.
"For a long time I've been waiting for the day to be released," Shalit says in the video, released on October 2. "I feel well in health terms, and I'm being treated very well."
Speaking of his family, he says, "I miss them very much, and I am longing for the day when I will see them again."
In exchange for the proof-of-life video, Israel released 19 Palestinian female prisoners that same day as part of a deal indirectly brokered by Egypt and Germany.
Israel and Hamas have been negotiating Shalit's release through those third-party mediators from Egypt and Germany, but talks have started and stalled numerous times.
Shalit's freedom has become a condition for the Israelis to consider ending a blockade of Gaza, which has economically wounded the Palestinian territory. Gaza's Hamas leadership has been under considerable pressure to alleviate the economic suffering in the Palestinian territory.
The United Nations recently issued a scathing report accusing Israel of war crimes during its military offensive in Gaza last winter. But it also called on the Palestinians to release Shalit on humanitarian grounds.
CNN's Kevin Flower and Shira Medding in Jerusalem contributed to this report.