Jail term for ex-Iranian vice president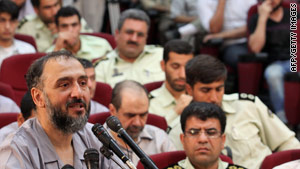 Abtahi appears in court in Tehran in August.
STORY HIGHLIGHTS
Mohammed Ali Abtahi receives six-year jail term, remains free pending appeal
Abthai sentenced for "acting against national interests"
Abthai was arrested amid protests which followed presidential elections
Tehran, Iran (CNN) -- A former Iranian vice president was sentenced to six years in prison for his role in post-election violence, but will remain free on bail while his case is appealed, the semi-official Iranian Student's News Agency reported.
Mohammed Ali Abtahi, a reformist politician who served as Iran's vice president under President Mohammed Khatami, was arrested in June following violence in the wake of the country's disputed presidential elections.
He was sentenced to six years for acting against national interests and anti-government propaganda, ISNA said. His appeal will be heard by the nation's court of appeals.
Abtahi was released on 7 billion rials bail (about $700,000), ISNA said.
Abtahi was an adviser to presidential candidate and former parliament speaker Mehdi Karrubi, according to the news agency.