Hezbollah denies link to weapons ship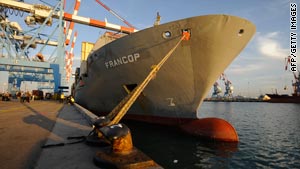 The Francop cargo vessel was seized 100 miles west of Israel's coast.
STORY HIGHLIGHTS
Hezbollah says it has no connection to an arms ship seized by Israel navy
Israel says vessel was carrying more than 40 containers of arms
Syrian officials deny any weapons on board ship
Jerusalem (CNN) -- Militant group Hezbollah Thursday denied links to a huge haul of weapons Israel says was seized when a naval anti-smuggling patrol intercepted a ship it claims was supplying arms for fighters in Lebanon.
The Antigua-flagged cargo ship Francop was stopped on Tuesday 100 miles west of Israel's coast, near Cyprus, according to Brig. Gen. Rani Ben Yehuda, deputy head of the Israeli navy.
Israeli officials say they found more than 40 containers of missiles, rockets, light arms and mortars on board, in what they described as the largest naval seizure of its kind. The vessel was released Thursday, minus its alleged cargo.
Ben Yehuda said they also found documents and shipping materials suggesting the weapons originated from Iran and were being shipped to Syria to be delivered to Hezbollah fighters in Lebanon for use in "terror activity."
He said there were enough weapons to keep Hezbollah fighting for a month, but offered no direct evidence to back the claim the weapons were bound for Hezbollah, the Lebanese militia group which fought a war with Israel in 2006.
Hezbollah, in a statement, denied any connection to the weapons ship.
"Hezbollah strongly denies any relation with the weapons that the Zionist enemy claims he seized from the Francop ship, at the same time Hezbollah condemns the Israeli piracy in international waters," the statement said.
Syrian officials also denied that there were weapons on the ship.
"This ship carries imported goods from Syria to Iran," said Syrian Foreign Minister Walid al-Moallem.
The weapons were disguised in containers as civilian cargo, according to Ben Yehuda. He said there were no indications the crew of the container ship had any knowledge of the deadly cargo and that the captain of the ship cooperated fully with the Israeli military.
The seizure is larger than the 2002 Israeli capture of the container ship Karine-A in which 50 tons of weapons bound for the Gaza Strip were intercepted.