U.N. debates Gaza war investigations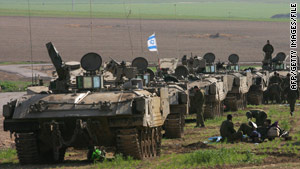 Israeli troops and armored vehicles wait on the Israel-Gaza border in January.
STORY HIGHLIGHTS
Palestinian ambassador: Side would follow up on report and recommendations
Israeli ambassador calls report "conceived in hate and executed in sin"
Swedish ambassador calls for "appropriate, credible and independent investigations"
Issue could head to International Criminal Court eventually
United Nations (CNN) -- A resolution calling for independent investigations into alleged war crimes committed by Israel and Hamas during last winter's Gaza war was the focus of debate in the U.N. General Assembly.
The resolution would call upon both parties of the conflict to set up investigations of the alleged crimes and could lead to further action by the Security Council.
"We are determined to follow up this report and its recommendations in all relevant international forums, including the Security Council and the International Criminal Court," said Palestinian Ambassador Riyad Mansour on Wednesday.
Israel has been the subject of scrutiny for its refusal to acknowledge recommendations made in a U.N. fact-finding report compiled by Richard Goldstone, a former international criminal tribunal justice. The report, issued in September, called on both Israel and Hamas to pursue independent inquiries and for the prosecution of those who allegedly committed war crimes during the Israeli operation in Gaza last winter. During that operation, 13 Israelis and over 1,400 Palestinians were killed.
"The report before you was conceived in hate and executed in sin," Israeli Ambassador Gabriela Shalev argued, calling the Goldstone report "one-sided" and the mission a "politicized body with predetermined conclusions."
Claiming that the report presents a bias towards Hamas, Israel had indicated that it would pursue internal investigations led by its own officials instead.
"Israel is committed to acting in accordance with international law. The rules of armed conflict are part of the training of every Israeli soldier," Shalev said.

Video: Gaza's deadly tunnels

Video: Clinton on Middle East peace
The Israeli government has ruled out setting up an independent investigative body that would interview Israeli military personnel about alleged war crimes.
But many Arab countries and human rights organizations say that internal investigations conducted by Israel would not be transparent enough.
Swedish Ambassador Anders Lidén, who spoke on behalf of the European Union, called for "appropriate, credible and independent investigations," which would possibly bring forth violations of international law.
In debating the resolution, 43 speakers will present before the 192-member U.N. body. Their statements, which may run into Friday, reflect the representative countries' varied stances on the recommendations made in the controversial Goldstone report and their desire to stand behind the resolution that calls upon U.N. Secretary General Ban Ki-moon to monitor its implementation.
If the resolution passes and the parties fail to set up independent investigations within the next three months, the non-binding resolution calls for the Security Council to refer the evidence in the report to the International Criminal Court.