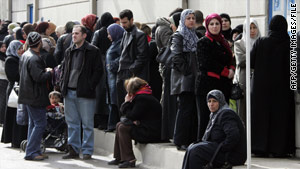 Iraqis wait outside the United Nations High Commissioner for Refugees office in Duma, Syria, on February 13, 2008.
STORY HIGHLIGHTS
Virtual vouchers help refugees avoid transportation costs, storage difficulties
They also help the local economy
Iraqi refugees take electronic voucher to select shops and buy items
They receive updated balance via text message if entire amount not used
(CNN) -- In what the World Food Programme called a first, relief workers from the U.N. aid agency are using text messages to deliver food vouchers to refugees.
The four-month pilot program kicked off last week in Syria, geared toward 1,000 refugee families from Iraq. If the pilot succeeds, the Food Programme plans to expand it beyond Damascus and to other countries.
Virtual vouchers offer several advantages over direct food distribution, said Abeer Etefa, the Food Programme spokeswoman for the Middle East.
They save families from traveling great distances to a distribution site and stand in long lines -- often a challenge for women and the disabled, she said.
Virtual vouchers also help refugees avoid the transportation costs and storage difficulties tied to collecting two months' worth of rations at a time.
"Now they can go to the store in their neighborhood, where they have some choice over their diet," Etefa said. "If they don't want canned fish, they can get eggs. They don't have to collect all the rations at one time. They don't have to queue in lines."
Virtual vouchers also help the local economy.
"It infuses some contribution to the communities, because we're not giving food away. They have to go to the local shops to buy it," Etefa said.
The voucher program works this way: Iraqi refugees in Damascus receive a text message on their mobile phones, delivering a code. They take the electronic voucher to select shops and buy items such as rice, eggs or lentils, which often can't be included in conventional aid baskets.
The vouchers are for two-month periods. Each family receives one voucher per person, worth $22.
If the family doesn't use the entire amount on their first trip, they receive an updated balance via another text message.
More than 1.2 million displaced Iraqis live in Syria, having fled the war and subsequent insurgent violence in their homeland. The Food Programme provides assistance to some 130,000, most of whom have mobile phones.
"Many times, they have trouble finding houses or run out of resources and have to move outside the city. The mobile phones are their main method of communication with anyone," Etefa said.
The Food Programme has previously sent text messages to refugees. They were limited to announcing aid distribution sites and times, however.
The pilot program goes a step further.
Though aid groups have used phone messages and smart cards to relay cash and information, the Food Programme thinks its pilot is a first in distributing food vouchers.
"As far as the WFP, it is the first in the world for us in terms of food vouchers," Etefa said. "I don't know if another country has something like this."