This month on Inside the Middle East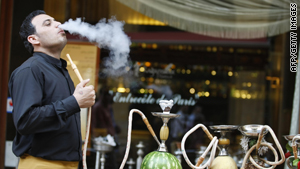 A Lebanese waiter prepares a waterpipe for a client at a restaurant in Beirut. Health professionals say the number of smokers in Lebanon is among the highest in the region.
STORY HIGHLIGHTS
Stan Grant takes us inside the animated world of Freej from Dubai
Cardiologist Dr. Georges Saade is on a mission to reduce the smoking habits of his Lebanese patients
On November 3rd we launch a new broadcast hub in Abu Dhabi, Stan Grant gives the grand tour
(CNN) -- This month on Inside the Middle East -- Brent Sadler Hosts from Beirut, Lebanon.
Dubai's Freej cartoon
Stan Grant takes us inside the animated world of Freej from Dubai. Meaning "neighborhood" in Arabic, Freej takes a satirical look at three traditional Emirati grandmothers trying to come to terms with the new reality and strangeness of the metropolis that has sprung up around them -- a parallel world of massive skyscrapers always looming in the background. Gaining huge popularity around the region since its launch in 2006, the home-grown animation takes a comic look at often sensitive and controversial topics.
Lebanon smoking ban -- reality or pipe dream?
On November 1st, Lebanon's health ministry began an ambitious anti-smoking awareness in an attempt to battle the alarming rate of smoking in the country. Cardiologist Dr. Georges Saade is on a mission to reduce smoking as his patients with tobacco-related heart illness get younger and younger. But in a country where smoking is considered "ingrained" in the culture, where there is no legal minimum age to buy cigarettes, and almost 60% of adolescent boys regularly use tobacco, Schams Elwazer finds out how feasible it is to make Lebanon smoke-free.
My Middle East -- My CNN Abu Dhabi with Stan Grant
With almost 50 bureaus around the world, CNN has a new home in the Middle East. Already broadcasting from Atlanta, London and Hong Kong, on November 3rd we launch our fourth broadcast hub in Abu Dhabi. Broadcasting a live nightly news program from Sunday-Thursday, our own Stan Grant shows us around our newest production facility. It took 20 nationalities working together, shipping in ten tons of equipment, installing 4 km of cabling and 25 km of wiring, we give you a taste of what it took to CNN Abu Dhabi.
Your IME Diary
A busy month around the region with film, fashion and F-1. Stars from around the world graced the red carpet at Abu Dhabi's Middle East International Film Festival. For more glamour and haute couture we bring you images from Dubai Fashion Week. The biggest highlight, though, was the Abu Dhabi Grand Prix as the Formula One season winded down. Our own Justin Armsden tells us what it was like to be trackside.
Inside the Middle East airs the first week of every month on the following days and times:
Wednesdays 0830 1430
Saturdays 0830 1700 2030
Sundays 0530 1530
Mondays 0300