From Kevin Flower
CNN





JERUSALEM (CNN) -- Israel and the United States commenced what is believed to be their largest ever joint military exercises in missile defense Wednesday.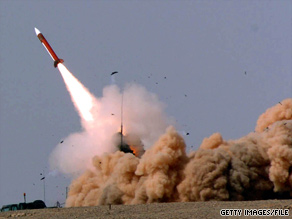 In an 2005 joint Israeli-U.S. exercise, a Patriot missile is fired from a desert launch site in southern Israel.
The long-planned, two-week air defense exercise has been dubbed Juniper Cobra 10 and will involve participation of 1,000 personnel from the U.S. European Command and the Israeli military, according to a statement from the Israel Defense Forces. It's the fifth such exercise since 2001.
According to the global security analysis firm Stratfor, the Juniper Cobra drill will be the "largest and most complex bilateral ballistic missile defense exercise" the two countries have conducted together and "will include a series of ballistic missile defense systems that would be used to defend against a hypothetical ballistic missile attack launched from Iran."
In a news release about the joint air defense exercises, the Israeli military said the drill "is not in response to any world events," but the maneuvers do come at time of increasing tensions amongst the United States and Israel with Iran over its nuclear program.
Both the American and Israeli governments believe Iran is seeking to develop nuclear weapons, an allegation Tehran has denied.
Stratfor said that despite the fact that the Juniper Cobra exercise has been planned for more than a year the drill "will ratchet up already sky-high tensions between the West and Iran."
Among the systems expected to be deployed and tested during the drills are the Arrow and Patriot missiles, along with the Theater High Altitude Area Defense and the naval-deployed Aegis missile defense systems.
Don't Miss
The IDF statement said, "In the course of the exercise small numbers of U.S. forces from U.S. Army Europe ... will be temporarily deployed to a number of locations in Israel in the vicinity of civilian areas."
E-mail to a friend