(CNN) -- Yemeni officials accused rebels of using civilians as human shields and urged people to flee to refugee camps as fighting intensified in the country's north, state media reported Tuesday.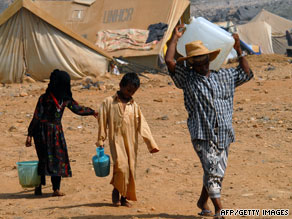 A family fetches water at a camp for displaced persons in northwest Yemen late last week.
Yemen's official news agency SABA reported the government had set up four refugee camps as fighting intensified in the northern part of the country but warned the pathway to these safe havens has been dangerous.
Houthi rebels have been kidnapping civilians, using them as human shields and planting land mines, the agency reported.
In the past, the group Human Rights Watch has said Yemeni government forces and rebels have endangered civilians during the fighting.
In a report released in July, Human Rights Watch said its researchers found "allegations of serious laws of war violations by both sides, including the use of children under 18 in combat, use of anti-personnel land mines in civilian areas, and taking civilians hostage."
Battles between Yemeni forces and Shiite Houthi rebels in the north have raged intermittently for five years. A government offensive launched this summer has recently caused more bloodshed.
The conflict is considered to be both separatist -- over who will assert authority in the area -- and sectarian -- whether Shiite Islam will dominate in majority Sunni Yemen.
The rebels are supporters of slain Shiite cleric Hussein al-Houthi.
E-mail to a friend

CNN's Mohammed Jamjoom contributed to this report.
All About Yemen • Insurgencies