(CNN) -- The United States is involved in the disappearance of an Iranian researcher, Iran's state-funded media reported.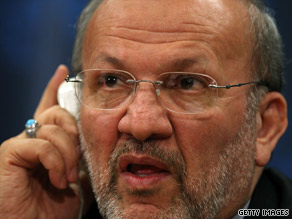 Iranian Foreign Minister Manouchehr Mottaki says Iran has proof of U.S. involvement in a researcher's disappearance.
Shahram Amiri, a researcher at Tehran's Malek Ashtar University, disappeared after going to Saudi Arabia for a pilgrimage on June 4, Iran's state-funded Press TV reported Wednesday.
"We have found documents that prove U.S. interference in the disappearance of the Iranian pilgrim Shahram Amiri in Saudi Arabia," Iranian Foreign Minister Manouchehr Mottaki told reporters after a Cabinet meeting on Wednesday.
Press TV's report did not mention that Amiri has been linked with nuclear research.
Asked about Iran's accusation at a U.S. State Department news briefing, spokesman Ian Kelly said, "We looked into it -- I mean, here in the State Department -- and we just basically don't have any information on this individual. And that's... I don't really have more to say besides that, really."
When prodded about whether anyone in the U.S. government was involved, Kelly said, "Not that I'm aware of," noting that he could speak only for the State Department.
No comment from other U.S. government agencies was immediately available.
The researcher's family has not heard from him beyond a few phone calls at the beginning of his trip, according to Press TV.
Iran's foreign minister also faulted Saudi Arabia in the researcher's disappearance, saying that its government did not fully protect him, Press TV reported.
Iran's accusation follows the recent revelation that Iran has been building a second uranium enrichment facility near the city of Qom. News of the facility has turned up tension between Tehran and international powers.
The Obama administration is working on a substantial sanctions package against Iran in case current diplomatic efforts fail to curb its nuclear program, top officials told Congress on Tuesday.
Undersecretary of the Treasury Stuart Levy, who developed some of the existing financial sanctions against Iran under the Bush administration, told a Senate Banking Committee hearing that the "comprehensive" plan would target "key vulnerabilities and fissures" in Iran to show Tehran it would face "serious costs" for thwarting international demands.
"It takes into account that no single sanction is a 'silver bullet.' We will need to impose measures simultaneously in many different forms in order to be effective," Levy said.
He stressed, however, that the United States would be mindful of actions that would harm the Iranian people or undercut the opposition battling the Iranian government.
Several U.S. lawmakers have expressed doubt that Tehran will negotiate in good faith and have threatened legislation to impose tough new sanctions against Iran, including further limits on its oil and gas sectors.
E-mail to a friend